Video of Police Fleeing After Hearing the Word 'Fentanyl' Viewed 5M Times
A video of Los Angeles police running after hearing someone say they have fentanyl has gone viral, with social media users ridiculing their retreat.
It comes amid a wave of protests across the country in the wake of the release of body camera footage of the arrest of Tyre Nichols, who died after allegedly being beaten on January 7 by police officers during a routine traffic stop in Memphis, Tennessee.
In the video—posted by @FilmThePoliceLA, a police-watching account run by William Gude—which had been been viewed 5.8 million times as of 9:25 a.m. ET Monday, the cameraman said: "Fentanyl. I have fentanyl."
"Back up, back your ass up," one of the officers in the background said. "Run. Run."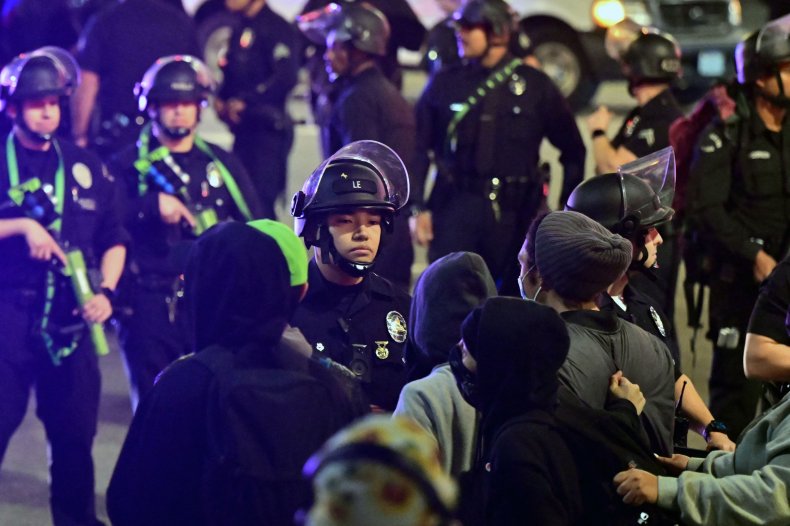 "I whispered 'fentanyl' and the cops ran. They're still running," Gude wrote.
In response to the tweet, users posted GIFs of the Hindu Holi festival—traditionally in which participants throw colored powder—as well as makeup powder and Harry Potter casting a spell to ward off evil spirits.
Protests against police have flared up again following Nichols' January 10 death, more than 2 1/2 years after the death of George Floyd on May 25, 2020, at the hands of Minneapolis police. During the trial of Derek Chauvin, the officer convicted of Floyd's murder, blood tests showed the presence of fentanyl in Floyd's system, but not enough to be considered fatal.
Newsweek reached out to the LAPD for comment.
Nichols, 29, was stopped on suspicion of reckless driving, according to police statements. The Memphis Police Department suggested there was a "confrontation" with officers and Nichols fled on foot.
Officers then pursued Nichols and attempted an arrest, which led to another confrontation before he was eventually apprehended. Benjamin Crump, the Nichols family attorney, said body cam footage showed Nichols had been shocked with a taser, pepper sprayed and restrained. Another attorney, Antonio Romanucci, said that Nichols was also kicked.
After being detained, Nichols complained of having shortness of breath and was taken to hospital via ambulance "in a critical condition," police said. Nichols died of his injuries three days later.
On Thursday, five police officers were charged with second-degree murder in connection with his death. Initial autopsy results suggested that Nichols had been severely beaten, which caused extensive bleeding, Crump said.
Following the public release of video of the arrest, protests immediately took place in Memphis on Friday night. Police in riot gear faced off with protesters in Los Angeles, and three arrests were made during a demonstration in Times Square in New York City.