Video: LeBron Beats Buzzer from Halfcourt as Lakers Beat Warriors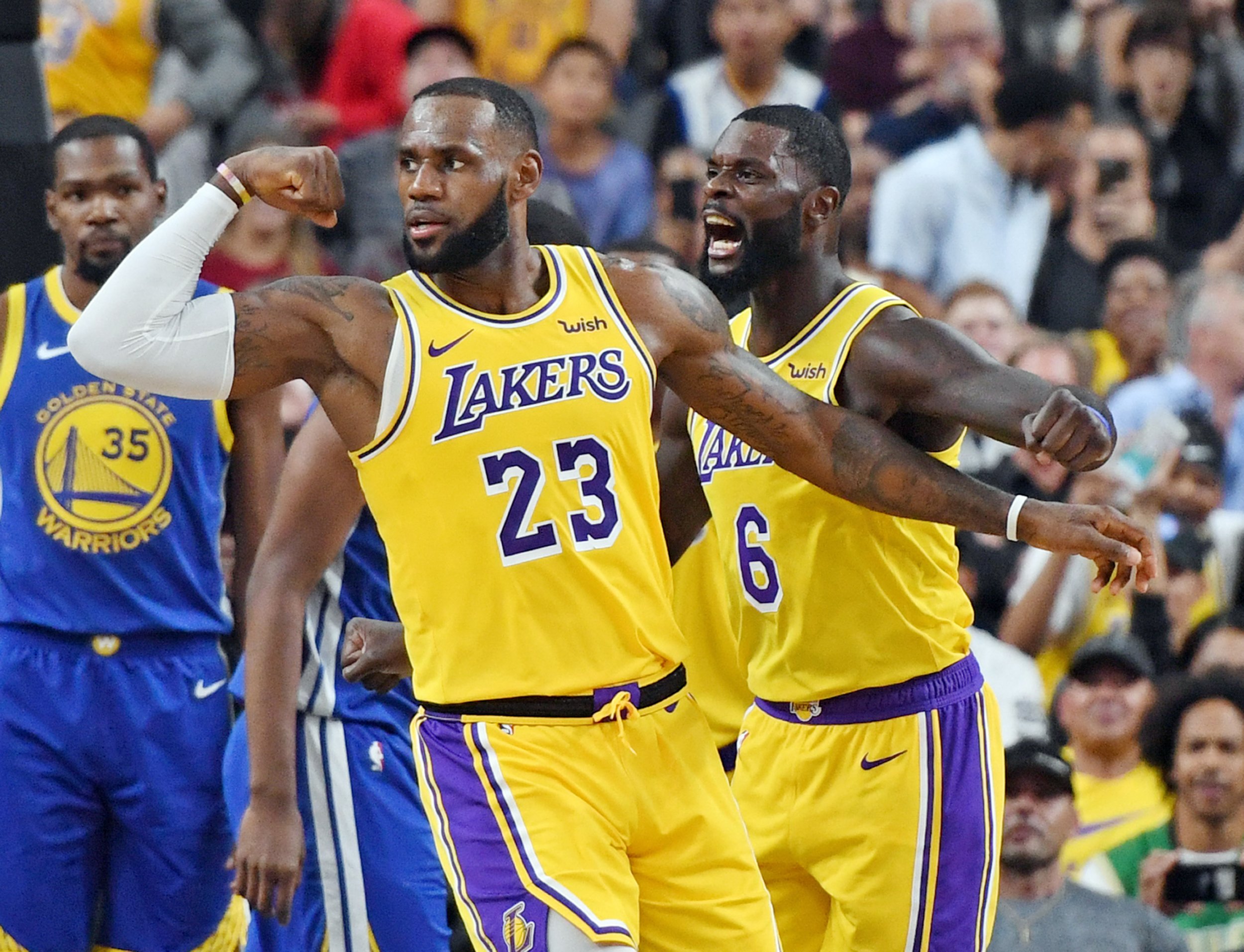 Since LeBron James swapped Cleveland for Los Angeles in July, Lakers fans have been looking forward to some special performances by the best NBA player of his generation.
With just one week left until the start of the regular season, LeBron produced the first "did you see that?" moment of his Laker career as he sank a buzzer beater at halftime from close to halfcourt against the Golden State Warriors.
It might have been a preseason game but the sight of LeBron pulling up a three from so far away and draining it nonchalantly was a reminder, if anyone needed any, that the four-time MVP remains at the peak of his powers.
The three-pointer came after Klay Thompson had missed from beyond the arc for the Warriors with just six seconds left on the clock. New Lakers recruit JaVale McGee grabbed the rebound and fed LeBron, who found his way to the left wing, just across the mid-court line.
Standing approximately 40 feet from the basket and with no time to orchestrate any kind of play, LeBron did the only thing he could and pulled up a three-pointer, which found its way into the basket.
The three-pointer gave the Lakers a 61-57 lead at halftime, which they then turned into a 123-113 win against the defending NBA champions.
In 18 minutes on the court, LeBron scored 15 points with 5-from-8 from the floor, to which he added 10 rebounds and five assists. Brandon Ingram top scored for the Lakers, recording 26 points in 26 minutes, despite a disappointing 5-from-13 from the field.
Lonzo Ball made his preseason debut, coming off the bench to score seven points in 23 minutes, along with four rebounds, four steals and two assists.
Until the Wednesday night preseason game in Las Vegas, LeBron had never played alongside Ball in a game and was very impressed with the number two pick of the 2017 draft.
"His ability to see the floor, his ability to push the ball, his athleticism, and then defensively, very, very quick hands. It was great to have him back on the floor," James said after the game, as reported by Lakersnation.
The Lakers tip off against Golden State again on Friday at 10:30 p.m. in San Jose, California. The 16-time NBA champions are 2-3 in the preseason so far.