Video of LeBron James Dropping F-Bomb After Breaking Record Viewed 1M Times
LeBron James has become the NBA's all-time points record holder, surpassing Kareem Abdul-Jabbar's total of 38,387.
It has been 20 seasons since James made his debut and on Tuesday night, he scored 38 points for the Los Angeles Lakers as they went down 130-133 to Oklahoma City Thunder.
With 10.9 seconds left in the third quarter, in which he had scored 16 points, James hit with a jump shot and broke the record that had been held for nearly 40 years by Abdul-Jabbar, as he moved on to a career total of 38,388 points.
Abdul-Jabbar scored a total of 38,387 points in 1,560 games over two decades, which included 14 years with the L.A. Lakers.
James has played for a similar amount of years to Abdul-Jabbar but actually achieved the record points haul of 38,390 in 140 games less than Kareem, with James playing 1,410 and counting.
The game at the Crypto.com Arena in Los Angeles was stopped for around 10 minutes as James took congratulations from members of his family, including his mother, his wife and three children, who joined him on the court for a ceremony to honor the momentous achievement.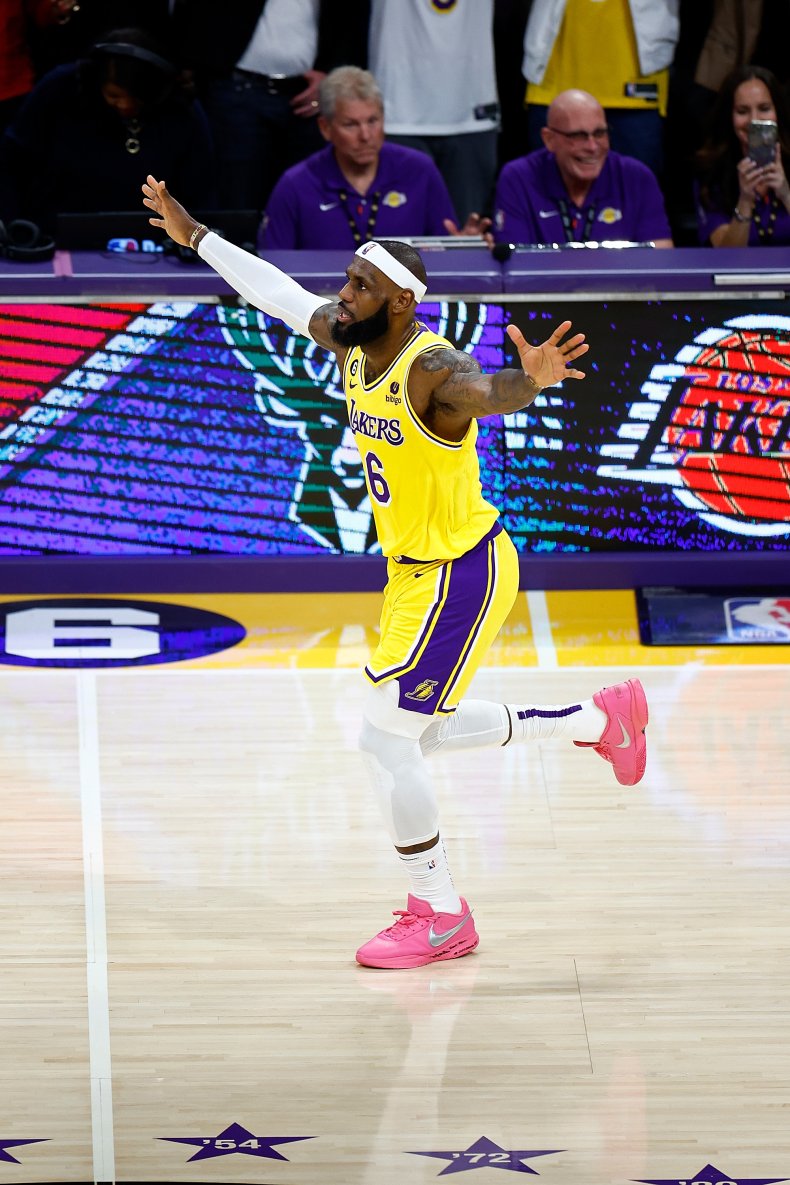 The 38-year-old had been playing through the pain barrier as he is nursing a sore ankle, which he is now managing daily, but that didn't stop him posting 20 points in the first half, to set up his shot at beating the record.
James was emotional as he addressed the crowd and paid thanks to those who had helped him and believed in him over his two decades of playing in the NBA.
He said: "I thank you guys so much for allowing me to be a part of something I've always dreamed about. I would never in a million years dreamed this to be even better than what it is tonight."
He finished off his short speech by dropping the "f-bomb" and telling the crowd: "F*** man, thank you guys."
The video of his f-bomb has now been viewed more than a million times after being widely shared on social media.
Abdul-Jabbar was courtside to watch the moment his record was surpassed and greeted James with a warm embrace before ceremoniously handing over the ball to the new points record holder.
NBA commissioner Adam Silver released a statement after the historic moment, which said: "Congratulations to LeBron on breaking one of the most hallowed records in all of sport...it's a towering achievement that speaks to his sustained excellence over 20 seasons in the league."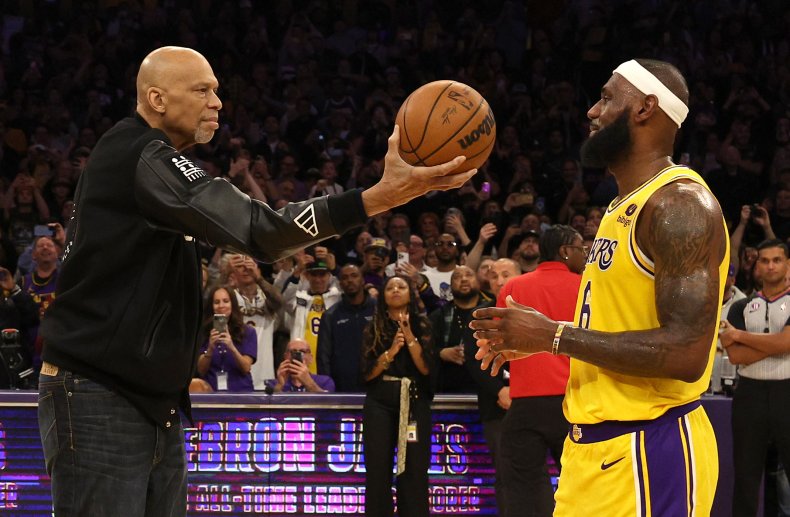 Lakers Head coach Darvin Ham also applauded James for his achievement, saying after the game: "The expectations were all the way out to Pluto, and he went ahead and created his own galaxy."
At a post game press conference, James paid thanks to the league and its officials for giving him the chance to play the sport he loves.
James said: "To the NBA, to Adam Silver, to the late, great David Stern, I thank you guys so much for allowing me to be a part of something I've always dreamed about."
He added: "Everybody that's been a part of this run with me these last 20+ years, I just wanna say thank you so much because I wouldn't be me without y'all."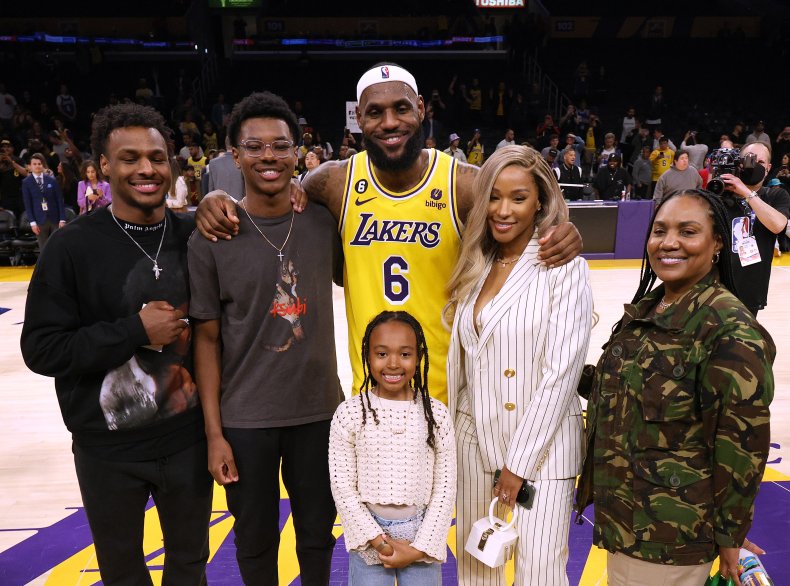 James was asked whether he is the greatest NBA player of all time, to which he replied: "I'll let everybody else decide who that is or just talk about it, but it's great barbershop talk. Me personally, I'm going to take myself against anybody who's ever played this game.
"But everyone's gonna have their favorite, decide who their favorite is. And even some of the league's best players have already made their mind up on it.
"I know what I bring to the table every single night and what I can do out on this floor. I always feel like I'm the best to ever play this game, but there are so many great ones and I'm happy to be just a part of their journey."
Do you have a tip on a sports story that Newsweek should be covering? Do you have a question about the NFL? Let us know via entertainment@newsweek.com.