LeBron James has gone viral again following his suspension, this time for kicking out courtside fans at the L.A. Lakers game against the Indiana Pacers.
The Laker star had two Pacers fans ejected from Wednesday's game at Gainbridge Fieldhouse in Indianapolis for an unclear reason.
While it seems like the fans—a man and a woman—said something to warrant James' reaction, that has not been made clear yet.
According to TMZ, after the game, James said: "I would never say it to a fan and a fan should never say it to a player."
Footage from the clip is going viral on social media and is already racking up millions of views.
A clip shared by Hoop Central, with 2.8 million views, shows James calling for the referee and pointing at the fans and saying: "This one right f****** here!"
The footage then shows the fans walking away from the court as the woman sarcastically pouted and pretended to cry fake tears on her way out.
The incident took place towards the end of the game with 2:29 left in overtime.
Barstool Sports also shared the clip with 315,000 views and criticized James for having the fans removed.
"LeBron got two college kids home from break kicked out of their court side seats in the middle of an OT game. Sad! That's not how you treat your highest paying customers!!!" tweeted Barstool Sports.
The No Jumper Twitter account also shared a clip that is amassing thousands of views at the time of publishing.
This latest incident involving James comes just days after he was ejected from Sunday's Los Angeles Lakers-Detroit Pistons game for elbowing Isaiah Stewart.
The athlete was suspended for the first time in his 19-year career and missed Tuesday's game against the New York Knicks.
"I mean, it's some bulls***," James told ESPN following the suspension. "But whatever."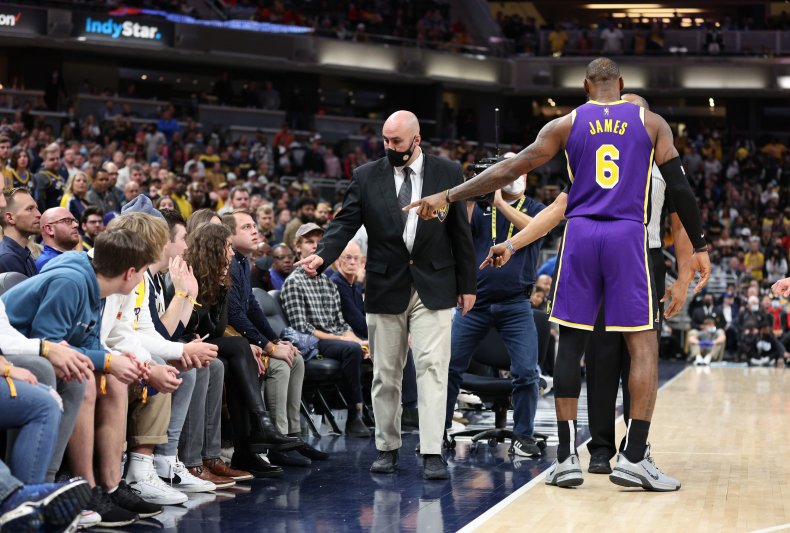 Speaking of missing the Knicks game which took place at Madison Square Garden, James revealed: "I was devastated. It's my favorite place in the world to play, so I was looking forward to it. But it is what it is."
In viral footage from the game, James is seen striking Pistons center Stewart while going for a rebound resulting in a hit that bloodied his opponent's face, maintaining that the blow was "definitely accidental."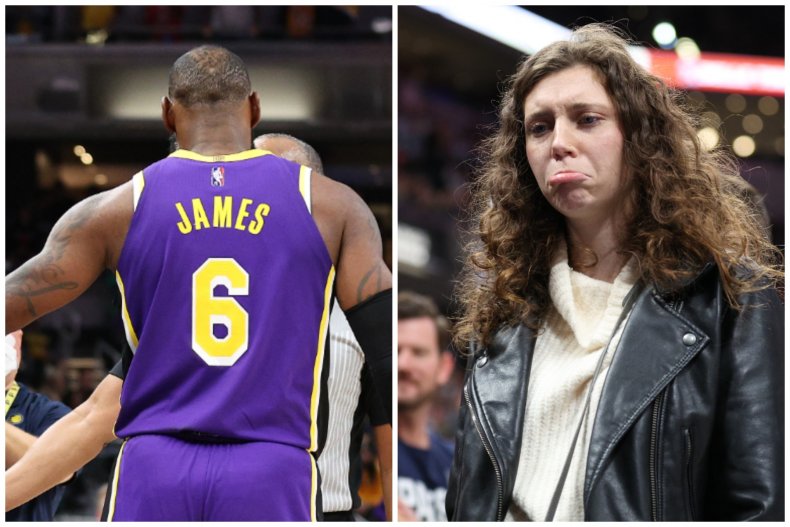 Explaining what happened after the Pacers game, James said: "There was a boxout on the free throw line. His elbow got kind of high, it got me—if you look, if you watch the film—it got me off-balanced a little bit, and his elbow lifted my arm, and I basically tried to swim move, swim down on him, on his arm."
He added: "And when I swung down on his arm, he got off balance and the left side of my hand grazed his face. And I knew right away. So, I knew right away I had caught some part of his head. So, I went over to apologize to him, and obviously, you guys saw what happened after that. But definitely accidental."