Video: Lesbian Couple Physically Threatened by Homophobic Man As Police Say 'Just Ignore Them'
A married couple in Portland, Oregon, say police did nothing to help them after they were targeted by a man shouting homophobic slurs and threatening them with physical violence.
Posting video of the incident to Facebook, Trudy Dragoon said she and her wife, Wendy, had been crossing the street when the man, who appeared to be in his 20s, sped up his vehicle "like he was going to hit" the couple.
After the vehicle made a U-turn and parked in front of a nearby home, the couple said the man jumped out of the truck and "said something about 'beating the shit out of f***ing d***s.'"
In the video, the man can be seen approaching Trudy with his fists up, shouting "Come on, you look like a f***ing man. Let's go. Act like a f***ing man if you hit like one, c***," before calling her a "gay pride ass b****."
"I have been called so many hateful homophobic slurs, it's nothing new to me," Trudy told Newsweek. But, she said, "I have never had a man or woman come at me ready to punch me just for being a human walking down the street."
Footage of the incident shows Trudy asking if the man lives at the house he and two others have parked outside. "No," he replies, adding: "I stopped because you're a dumbass."
He then threatens Trudy saying, "you're a f***ing woman. I'd knock you on your f***ing ass" after she says she has taken down the license plate number of the vehicle he arrived in.
As the man's friends start unloading bags from the vehicle, he continues to threaten Trudy, stating: "I'll spit in your face… I'll leave you sleeping, b****."
Wendy can be heard asking "did you just threaten us?" to which the man replies "I'll leave you sleeping too."
He can also be heard encouraging Wendy and Trudy to post video of the incident to Facebook, saying: "Post it on Facebook, make it viral, oh my god! Let's get some f***ing views!"
After the man continues to threaten violence, Trudy says: "Do it, please, please lay a hand on me. Do something because I'll knock your drunk ass on your ass right now," as one of the man's friends tries to intervene, standing between the two and saying: "Stop, stop."
Another friend asks Trudy and Wendy to leave, saying "everything's done now." However, the altercation continues, with the video running three minutes before a Portland police officer on patrol approaches the group and asks what's happening.
"He's harassing me," Trudy says. The man counters that "she won't get off my property… Tell her to keep walking, she's on my property," before the video cuts out.
Wendy filled in the blanks of what happened next in an interview with the Portland Mercury, alleging that the police officer told her and Trudy to "just ignore" the man.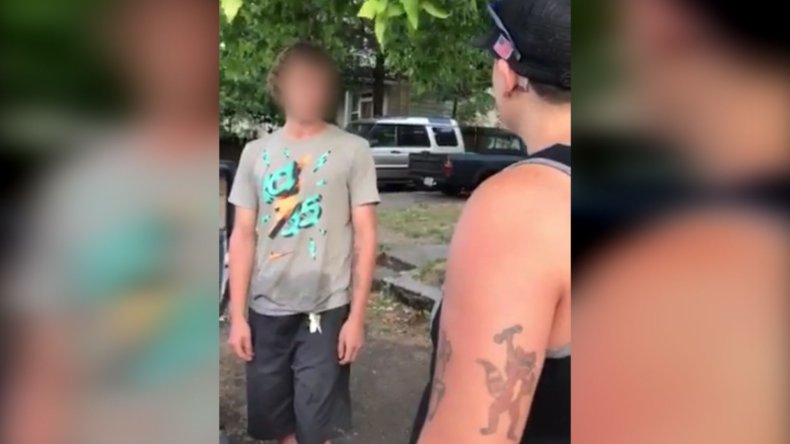 "I was like, 'Absolutely not,'" Wendy recounted. "I said, 'This is harassment. This has to be a hate crime.'"
However, the officer told the couple that the man's actions could not be considered a hate crime unless he had been physically violent.
"He actually said, 'Being mean to you isn't against the law,'" Wendy told the local newspaper.
Trudy told Newsweek she was concerned for the couple's safety.
"It makes me feel uncomfortable," she said. "The cop made it sound like we have to wait to be beaten up for them to do anything at all."
'Being mean' or a hate crime?
According to Oregon's hate crime law, however, that should not technically be the case.
By law, a person can be charged with a second-degree misdemeanor if they "intentionally, because of the person's perception of race, color, religion, sexual orientation, disability or national origin… subject the other person to alarm by threatening… to inflict serious physical injury upon or to commit a felony affecting the other person, or a member of the person's family."
Under that definition, the incident captured in the video alone could provide grounds for such charges.
Read more: Tennessee Democrat calls Republican candidates 'racist, homophobic, unethical'
Portland Police Bureau (PPB) spokesperson Christopher Burley told the Mercury that the department has opened an investigation into the incident.
He said the officer involved had "advised the groups to avoid one another," adding that they did separate after being told to do so.
Burley said that he was not present at the time of the altercation, but insisted that "a video does not necessarily convey everything that was occurring at the time of this incident."
Hours after the altercation, neighbors of the Dragoons appeared to show their support for the couple, with one person posting a photo of the vehicle the man and his friends had left parked surrounded by chalk drawings of the rainbow flag, which is used around the world to represent the LGBTQ community.
"I have never had an experience with a neighbor like this before," Trudy told Newsweek. "I'm so thankful we have close neighbors and friends. We all take care of each other," she added.
The Dragoons said they hope to see law enforcement "set an example" with this incident.
"People like [the man] need to be held accountable for their actions," Trudy said. "If we don't set an example with this, others will do the same knowing the cops aren't helpful. They know they can and will harm other LGBTQA members."
This article has been updated with comments from Trudy Dragoon.