Video: 'Lock Him Up,' Protesters Chant as Trump Arrives at White House
President Donald Trump and first lady Melania Trump were greeted at the White House on Sunday by chants of "lock him up" as protesters demonstrated outside the building for a seventh day straight.
In video shared on social media, the president and first lady can be seen making their way into the building as protesters bellow "lock him up, lock him up." The activists are holding up signs and banners and playing instruments.
Both Trump and Melania appeared to ignore the protesters' calls.
The demonstration is set to continue on Monday, with one of its organizers, Adam Parkhomenko, a former campaign adviser to Hillary Clinton, writing on Twitter: "Moscow on the Potomac protests begin again for Day 8 at the Kremlin Annex at 7 p.m. sharp on Monday."
The "Occupy Lafayette Park" protests first started a week ago in response to Trump's Helsinki summit with Russian President Vladimir Putin.
So far, they show no signs of stopping after Parkhomenko said on Twitter on Sunday that he had received as many as 2,036 donations since Friday totaling more than $50,000 to keep the demonstrations going.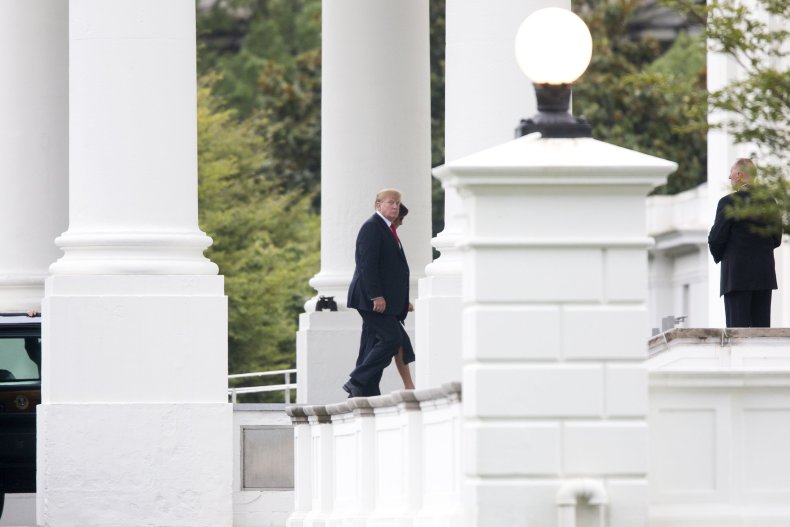 The adviser-turned-activist even floated the idea of using some of the funds to get Washington, D.C., "its own dedicated baby Trump blimp."
Read more: White House protests continue for 7th day after organizers raise $50K
The Trump administration has been racing to address the political fallout after Trump's Helsinki summit, which former CIA director John Brennan said was nothing short of "treasonous." John McCain condemned it as "one of the most disgraceful performances by an American president in memory."
After meeting privately with Putin, Trump publicly rejected findings of the U.S. intelligence community of Russian meddling in the 2016 presidential election. The U.S. leader later claimed that he had misspoken and had meant to say "I don't see any reason why it wouldn't be Russia" after saying he didn't see any reason why the country "would" be responsible for meddling in the election.
Trump defended his meeting with Putin in a tweet on Monday, taking the opportunity to hit out at the media over its coverage of the summit.
"When you hear the fake news talking negatively about my meeting with President Putin, and all that I gave up, remember, I gave up NOTHING," Trump wrote on Twitter.
"We merely talked about future benefits for both countries," the president said, adding: "Also, we got along very well, which is a good thing, except for the corrupt media!"