VIDEO: Magnus The Therapy Dog Brings Comfort to His Family and Critically Ill Patients Alike
Magnus the therapy dog is seen sleeping on the sofa with one of his teenage girl owners, taking a break from visiting hospitals, in a sweet social-media post.
Brian Benson, a visual-effects supervisor for TV and film from Pound Ridge, New York, shared the images on the Instagram page Magnus the Therapy Dog. It has nearly 400,000 followers and numerous viral clips.
One video of Magnus sleeping on the sofa with Benson's daughter has been viewed nearly 6 million times.
Benson adopted Magnus, a Labrador retriever, when he was 18 months old. He turns six in April.
"Magnus and I have been a pet-therapy team since 2018. We visit terminally- and critically-ill children and adults in hospitals. We also visit the patients in the trauma ICU, all of their grieving family and friends, plus the overworked hospital staff," Benson told Zenger.
The pair also visit schools for children with emotional issues and learning disabilities. As a therapy team, they help advance the physical, emotional and social well-being of others via animal-assisted interactions.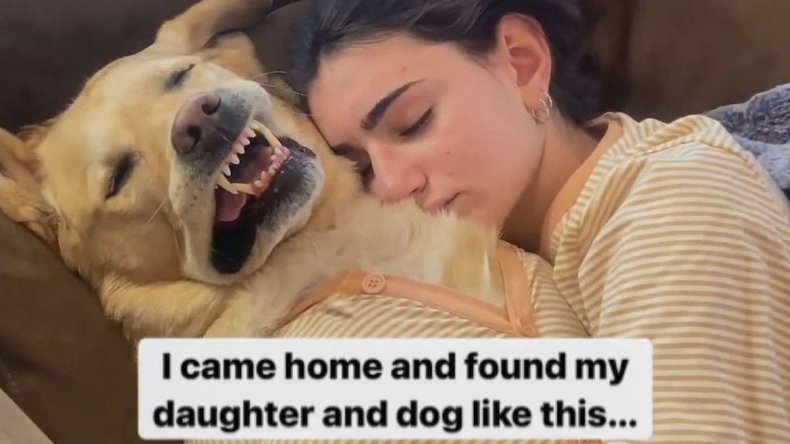 Benson has two daughters, Riley, 15, and Skyler, 13. One of Magnus' favorite things to do is to cuddle with his family. He also has various outfits and is a fan of dressing up.
"Everyone in my family loves to nap with Magnus whenever possible. I have caught all of them at various times passed out with him. Resting with Magnus is the most relaxing thing ever," Benson told Zenger.
"Magnus really has the best temperament. He has a natural empathy that can't be taught. You can teach a dog to sit, stay, shake hands, etc. But you can't teach a dog to read people's emotions, sense their pain, and understand how to comfort them," said Benson.
"This is the part of Magnus that is just hardwired into his DNA — the ability and need to make people feel at ease and happy."
Benson said Magnus was originally adopted to be a family pet.
"Unfortunately, my oldest daughter Riley has severe juvenile arthritis that started when she was eight. As part of her medical regimen, I would give her weekly or sometimes daily injections. This was extremely stressful for my daughter, and the injections would make her very agitated and anxious," he said.
"On one of the first days that we had Magnus, he intuitively knew to come lay by her side, rest his head on her lap and comfort her. No one told him to do this. He just read the room, saw a person who needed his help and provided it, without hesitation.
"This was when I realized Magnus was meant for something more," he said. Benson began researching therapy dog work and enrolled in a certification course.
"Before COVID, Magnus and I would go on in-person visits to hospitals and schools. Once COVID hit, all therapy visits were put on permanent hold, so we needed to find a way to continue to help people."
Benson decided to start an online account for virtual therapy. Through funny, feel-good content, his goal is to make people smile and give them a distraction from the pandemic.
"We have received messages from people all over the world that our content has helped with their depression, got them through the pain of losing a loved one, helped them cope with being out of work."
This story was provided to Newsweek by Zenger News.