Video: Man Breaks Into L.A. Zoo, Slaps Hippo's Butt and Celebrates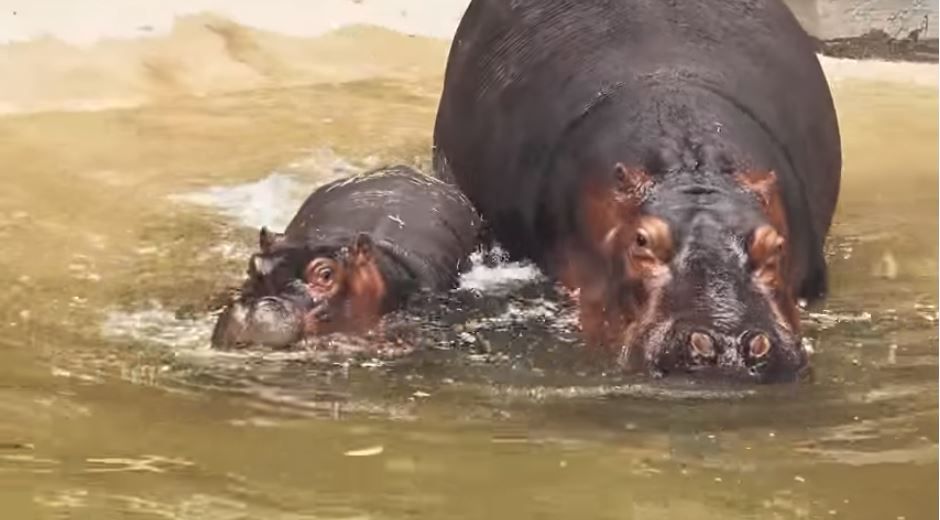 Bizarre footage has emerged of a man breaking into an enclosure at the Los Angeles Zoo so that he can slap a hippopotamus on its backside.
The video, which was posted by SomethingToLaughAt on Twitter, shows a man in a white T-shirt jumping the fence and slowly edging up towards the animal. He gestures to the camera to be quiet before getting just in reach to slap the hippo.
"He just slapped the hippo's ass," a woman can be heard saying. He immediately jumps back over the fence, signals a thumbs up and even celebrates with some dancing.
There were two hippos in the enclosure—four-year-old Rosie and her mother, Mara. The man had slapped Rosie, the younger of the two, leaving them both startled. The video was uploaded last week on Twitter and Instagram.
The Los Angeles Police Department (LAPD) is now investigating a case of trespassing. It is not known when the incident actually took place. The LAPD said it was not being considered a case of animal cruelty because it is unlikely either of the animals suffered.
Speaking to the L.A. Times, Los Angeles Zoo spokeswoman April Spurlock said it was a risky move by the man. "Any unauthorized interaction with an animal is unsafe for the animal and potentially unsafe for the patron," Spurlock said. "It is never appropriate for anyone to attempt to have contact or interaction with any animal outside of our staff-led animal experiences."
The zoo has now installed a "No Trespassing" sign at the hippo enclosure, a first for anywhere in the zoo. The Los Angeles Zoo does offer a paid experience to pet the hippos on weekends and holidays for $20.
"Every animal is different and we don't know exactly what they were thinking," Spurlock said. "But, it's an invasion of the trust we work so hard to build with these animals. We seriously feel this was an isolated incident. Most people know not to go in with the animals. It's common sense."
The zoo released a statement on Monday night about the incident. ""The Zoo would like to remind everyone that it is never acceptable for a guest to enter the habitat of any animal at the Zoo, excluding our staff-supervised animal encounters," it said, according to CBS Los Angeles.
"It is a privilege to observe these rare and endangered species, but they are still wild animals and their space must be respected at all times. Our first priority is always to keep our guests, staff, and animals safe."
The Los Angeles Zoo did not immediately respond to a request for comment.
Despite the video showing the animals to be quite placid, hippos are responsible for more human deaths than any other large animal in Africa, according to the BBC. A tourist was killed recently when he was attacked by a hippopotamus near a lake in Kenya's Rift Valley.
The Kenya Wildlife Service (KWS) said Chian Ming Chuang, 66, was tracking the animal with a colleague on the shores of Lake Naivasha, around 60 miles northwest of the capital Nairobi.
They were taking pictures of the animal when it suddenly attacked, CNN reported. His colleague Wu Peng Te, 62, survived, suffering minor bruises, and is currently being treated at the Naivasha Sopa Resort. However, Chian Ming Chuang was pronounced dead at the hospital.
Video: Man Breaks Into L.A. Zoo, Slaps Hippo's Butt and Celebrates | U.S.