Video of Man Checking Phone During Field of Dreams Homer Watched 150,000 Times
A spectator who missed the two-run homer that won the Field of Dreams game because he was looking at his phone is going viral on social media.
A Twitter video, which has been watched more than 150,000 times in 12 hours, shows the young man is distracted by his cellphone when Tim Anderson of the Chicago White Sox hits the home run to defeat the New York Yankees in the Major League Baseball game played on Thursday in an Iowa cornfield.
A woman standing next to the unidentified fan taps him on the shoulder to alert him. He looks up just in time to see the ball flying through the air.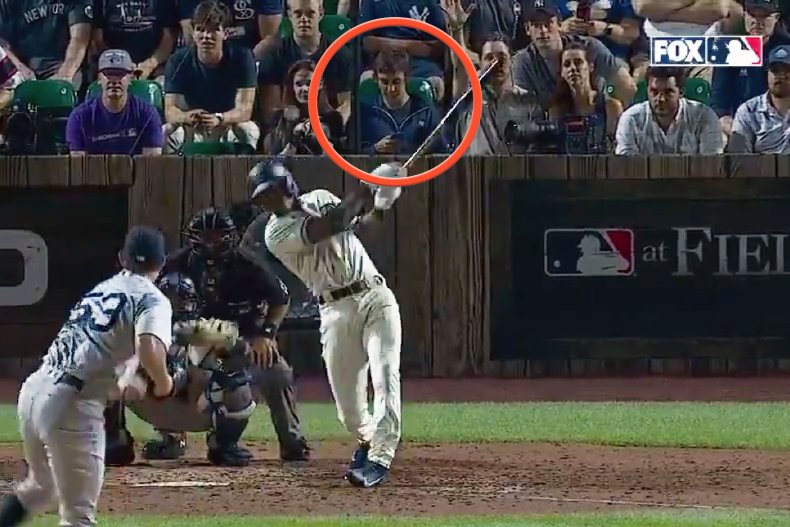 Darren Rovell, who posted the tweet, accompanied the video with the caption: "You get the $3,000 ticket to the 'Field of Dreams' game. But you see something better on your phone! Miss walk off."
Other social media users were similarly unimpressed. One posted: "Only thing the MLB needs to change for this game in my opinion. Let's fill the front 10 Rows with Iowa fans!"
Another wrote: "Pretty much sums young people today. Missing the world as it goes by as they are always looking down not up."
Major League Baseball has been planning for years to hold a game in the fields of Dyersville, Iowa—the filming location for Kevin Costner's much-loved 1989 movie, Field of Dreams.
It finally happened on Thursday in front of a crowd of 8,000 people in a specially constructed stadium, ending in a 9-8 victory for the White Sox.
The clip of the distracted fan was not the only footage from the game to go viral. Multiple clips of Anderson's homer are being shared on social media and have been watched more than 1.7 million times in total.
As soon as the ball left his bat, launched into the rows of corn behind the stadium, Anderson began to celebrate, jumping for joy and jogging around the bases as he hailed his teammates—and the fans who had traveled to Iowa for the first MLB game in the state. Fireworks were let off outside the stadium.
After the game, Anderson said: "It's over. Once I made contact, I knew it was over. I knew it was out. These are the moments you want to be in. These big games like this, this is the time to show up."