Video of Man on Fire on UC Berkeley Campus Viewed over 200k Times
A video of a man who set himself on fire at the University of California, Berkeley on Wednesday afternoon after apparently suffering a severe mental health episode has been watched more than 200,000 times online.
The man can be seen in videos that have been widely circulated online engulfed in flames as people surrounding him—likely students at UC Berkeley—try to put out the fire, covering him with their clothes and throwing water at him.
As people attempt to tame the flames, the man, whose identity has not yet been revealed by authorities, can be seen trying to dodge them and walk away. Someone can be heard yelling "Oh my god."
Another clip of the incident also shows the man walking away from people trying to put out the flames engulfing him.
Warning: The following video contains content that viewers could find distressing.
According to the University of California Police Department (UCPD), officers received a call at 4:17 p.m. on Wednesday about a person on campus being on fire. The man—who The Berkeley Scanner said is thought to be in his 20s—reportedly set himself ablaze in Sproul Plaza, in the middle of the university's campus.
The man, who was transported to a local hospital by Berkeley Fire Department officials, sustained critical burns, Fox News reported. A woman in her 40s who tried to put out the flames and help the unidentified man sustained minor injuries, according to reports.
First responders on the scene reportedly said the incident resulted from a mental health crisis, but it's still unclear exactly what happened.
According to an eyewitness who spoke to The Berkeley Scanner, the man was yelling and moaning as the flames burned him. Another bystander, Rachel Diao, told the newspaper that the man was shouting "Mormon Mafia," and that he ran from and pushed away those trying to help him.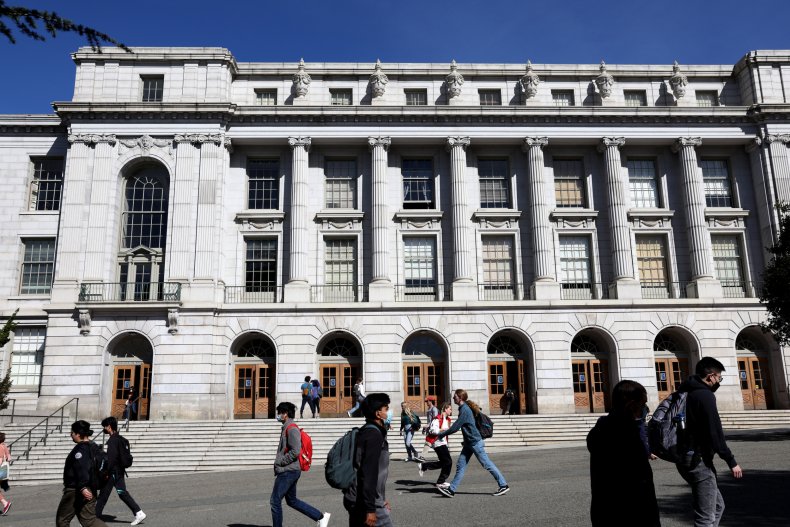 Another witness told the newspaper that the man was yelling "leave me alone" at first responders.
UCPD told Fox News that Berkeley Mental Health was on the scene of the incident. After the incident, a UCPD officer reportedly said that the man was being placed on a 5150 hold for a mental health evaluation.
The 5150 section of the Welfare and Institutions Code allows an adult experiencing a mental health crisis to be involuntarily detained for a 72-hour period in a psychiatric hospital for evaluation.
UCPD have launched an investigation into the incident.
If you or someone you know is considering suicide, please contact the 988 Suicide and Crisis Lifeline by dialing 988, text "988" to the Crisis Text Line at 741741 or go to 988lifeline.org.