Video: Man Jumps Atlanta Airport Fence, Approaches Plane on Runway Prompting Massive Security Response
A 19-year-old man has been arrested after allegedly running though an airport runway, jumping onto the wing of a plane and banging on its window.
Video footage posted online shows a barefooted man dressed only in his underwear running onto the runway and approaching the plane at Hartsfield–Jackson Atlanta International Airport in Georgia just after 4:30 p.m. on Tuesday (June 26)
The man, identified as Jhryin Jones, is believed to have scaled a fence at the airport before running towards the Delta airliner that had arrived from Miami, resulting in a huge security scare.
"He approached an aircraft, jumped on the wing and began to pound on the windows. Five minutes later, he was taken into custody without incident," Stephanie Brown, a spokeswoman for the Atlanta Police Department, said in a statement, reports Reuters.
Footage taken from the scene also appears to show Jones talking to himself while walking towards the plane, before calmly lying down on the ground to be detained by police.
One Twitter user who uploaded footage of the incident, Garth Magness, claimed the individual "jumped out the door onto the [runway]" before trying to get back into the plane. This was later denied by authorities.
Posting onto Twitter, the airport confirmed there were "conflicting reports as to how the male apprehended on the airfield accessed the airfield." However, the incident did not impact flight operations despite the huge police presence on the runway at the time.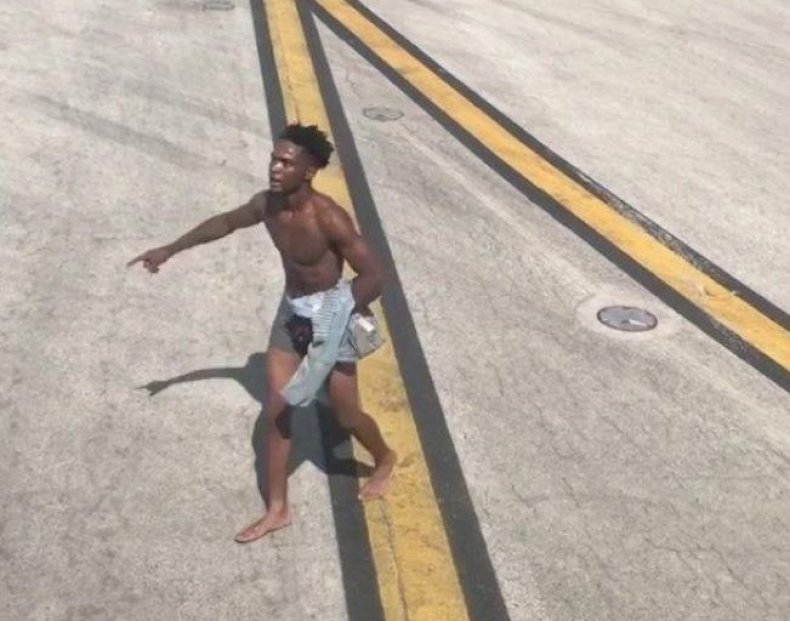 Audio footage obtained by WSB-TV reveals conversations between the control tower and the cockpit as the incident unfolds.
"He is tossing some stuff around. My guess is he has his clothes off and now he's lay on pavement…doing some pushups," one official can be hard saying.
Jones was later arrested and charged with criminal trespassing, public indecency and obstruction of law enforcement officers.
The airport did not respond to a request for further information.