Video: Man Climbs on Humpback Whale To Cut it Free From Rope, Upsets Coast Guard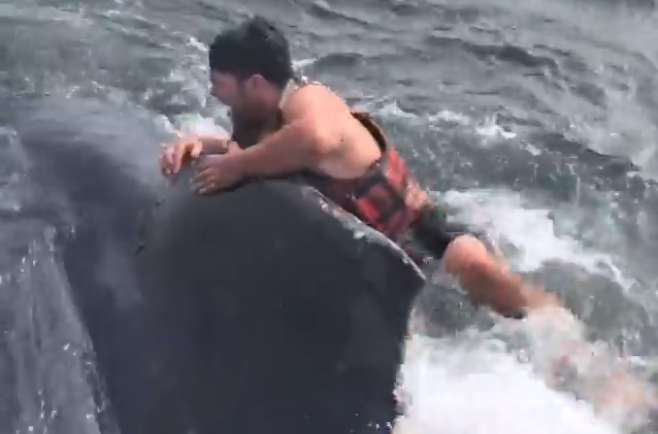 A fisherman who was recorded climbing on a humpback whale after it became entangled in a rope in California was lauded as a hero on social media.
But his actions, which included jumping into water beside the whale, were criticized by officials who warned he set a dangerous example. Dramatic footage of the rescue, which took place at Morro Bay, was captured in September. More was uploaded to Instagram Thursday.
According to NBC Bay Area, Sam Synstelien and his colleague Nicholas Taron, of fishing vessel The Persistence, noticed the distressed animal had a rope tied around its back and tail. "[The whale] was just swimming in counter-clockwise circles," said Taron, who shot the clip. "You could tell he was stressed."
The pair said they reported the case to the Coast Guard, but were told that nothing could be done for hours. So the crew decided to leap into action—in Synstelien's case, literally.
"Get it Sam, jump on the whale right now and cut it," Taron is heard shouting in the footage. Synstelien is seen swimming towards the animal and climbing on its back to cut the rope. The whale thrashes, its tail smashing hard against the side of their boat, before it is freed.
In an Instagram description alongside the video clip, the fishermen wrote: "We followed this entangled humpback whale around for an hour. Cut an entangled buoy from her back but she was still caught. With no other options F/V Persistence getting the job done."
While social media users lauded the fishermen as heroes, officials said their actions could have ended in disaster. Justin Veizbicke, spokesperson for the National Oceanic and Atmospheric Administration (NOAA) Pacific Fisheries, told NBC Bay Area in a statement: "We've had people die trying to get in the water, and just last year, we lost one of our responders."
The website of the San Francisco Chronicle reported that the U.S. Coast Guard also warned against launching the type of rescue mission seen in the fishermen's footage.
"While we are relieved the fishermen were not harmed and the whale may have been freed, we fear this video is a very dangerous example, and may encourage others to attempt such a response in the future," it said. "Even authorized, trained responders have been killed while attempting to disentangle whales using the best techniques and specialized equipment."
The agency said that "best practice" is never to get in the water with an entangled whale.
It noted: "These animals are very powerful and dangerous in close proximity. In addition, every entangled whale is not necessarily in imminent danger, meaning that there is time to wait for the authorized responders and not requiring these types of emergency actions. And cutting just the visible lines may not totally free the animal, making it harder for responders to help."