Video: Man Wrongly Jailed for Murder at 14 Weeps in Court as He Is Cleared 27 Years Later
A man who was wrongly jailed for murder at 14 wept in court on Tuesday as his name was cleared by a judge 27 years later.
John Bunn was found guilty of killing an off-duty correction officer in 1991 and charged with second-degree murder, reported CNN. He has always maintained his innocence, and a judge in New York finally exonerated him— after he served almost two decades behind bars.
"It has been 27 years, I've been fighting for my life and I've been fighting for my innocence," Bunn, who is now 41, said in court. "I didn't deserve any of that stuff that you all did to me."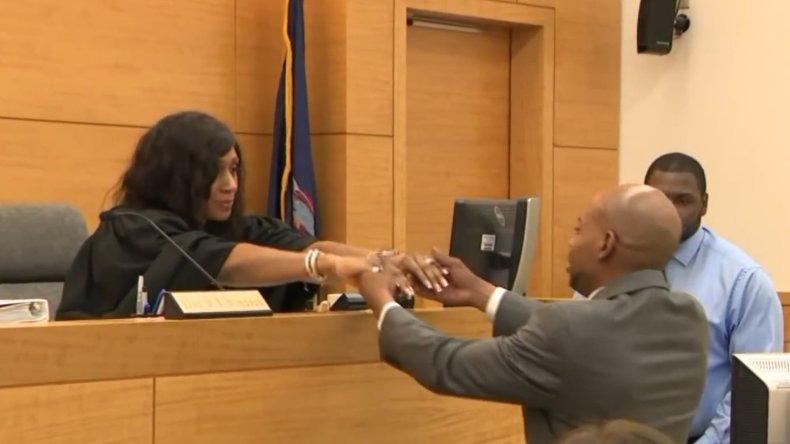 In the courtroom, Bunn clutched Judge Shawndya Simpson's hands, bowed his head and cried as she cleared him of the crime.
"I want to say thank you, your honor," Bunn said. "[The prosecutors] won't admit and say that I'm an innocent man. But I'm an innocent man, your honor, and I have always been an innocent man."
"I want y'all to know that y'all convicted and had the wrong man in prison," he added.
In August 1991, Rolando Neischer and Robert Crosson, two off-duty Rikers Island correction officers, were shot while in a parked car in Brooklyn. Neischer was shot five times and died. According to court documents, the two suspects intended to steal the car.
After the incident, an anonymous tip led authorities to Bunn, then 14, and Rosean Hargrove, 17. Although two bicycles found near the scene covered in blood and fingerprints did not match either Bunn or Hargrove, Crosson, who had survived the attack, identified the two boys as the perpetrators and they were sentenced in a trial that lasted one day.
Bunn served 17 years in prison and was released on parole in 2009. He worked alongside the Exoneration Initiative for years to clear his name.
On Tuesday, Judge Shawndya Simpson criticized the justice system for the horrendous mistake and blamed the disgraced former NYPD detective Louis Scarcella, who has been suspected of framing dozens of innocent suspects. "In one day they picked a jury, they had openings, they had witnesses, and a conclusion on a murder trial which I do not consider justice at all," she said."The onus had a lot to do with Scarcella, and unfortunately he affected your life and the life of many."
Hargrove, Bunn's co-defendant, also had his conviction thrown out, with no need for a separate retrial.
According to PIX11, Bunn said he taught himself to read in jail and has accumulated over 20,000 books for New York inmates since he was released.
"I just feel overly blessed and thanking God that we reached this point," he said outside the courthouse.