A Dutch Royal Marine has shared a series of simple tricks designed to maximize safety and security when staying at a hotel.
Posted to TikTok under the username DutchintheUSA, the video sees the marine, whose name is Robin, offer up some easy-to-follow advice on how best to prepare yourself, in the event of a potentially dangerous scenario, using a series of everyday and easily available objects. The footage can be viewed here.
"Here are some hotel room safety tips you should know about," he explains in the clip, before going on to demonstrate the first in a series of clever life hacks.
He begins by showing how your belt can be used to prevent someone breaking in.
"Use your belt to go through the chain link," Robin explains. "This makes it harder to pick it or even remove the lock from the chain link."
In the video, he is shown looping his belt through the chain on the top lock and then securing it further by wrapping it over the door handle."
The next tip sees him balance a glass on the handle of the hotel room door, explaining to viewers that it will "wake you up if someone tries to open the door."
Finally, Robin shows how an adjustable shower curtain rail can be transformed into a "self-made barrier" to prevent intruders from entering the room.
Dubbing it his "most favorite of all" he is keen to stress that "in this instance" he is using the rail but, when not available, other objects of a similar shape will suffice.
According to the safety expert, the technique works by using a "triangular method" to put pressure on the door and ensure it won't open.
By jamming the rail sideways against the door handle and the wall next to it, Robin is able to show how even he is unable to get the door open once the barrier is in place.
Though it should be noted that this particular trick only works if the door is in close proximity to another wall at a right angle, there are likely to be applicable variants of the technique that can be used elsewhere depending on the layout of the room.
Robin's video has already been viewed over 4.5 million times on TikTok, garnering over 678,000 likes and more than 10,000 comments.
The marine drew particular praise from his female followers, many of whom thanked him for offering up the useful tips on beefing up personal security on the road.
Kleinmen_1234 wrote: "I'm a female and travel for business. This is good. I'm often scared most in parking lots."
A second, _whatthewitch_, said "I have court out of state with my abuser and will be using these tips. Thank you."
Angelabodnar8 commented: "These videos make me feel so much safer in this crazy world."
Mr.murrs, meanwhile, offered up her own tip: "My last hotel had the closet and bathroom next to the door so I opened the closet and bathroom door against the main door as extra noise protection."
The tip was met with approval from Robin who wrote: "Smart!"
Others felt the safety advice was a little over the top.
BScoot3 asked: "What hotels are you people staying at that you need this???"
Responding to the question, Robin explained: "The amount of rooms being opened is insane."
One of the top comments, meanwhile, came from the TikTok user milfsplz who wrote: "A lot of men asking 'why would you need to do this??' or 'it's not that serious' truly don't know what it's like to live as a woman today."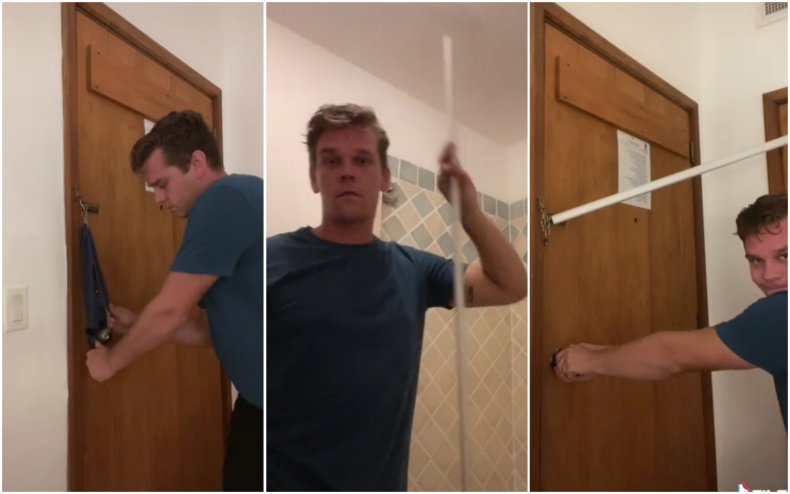 Robin told Newsweek he began posting on TikTok during lockdown.
"I got into the videos when quarantine happened, some of my escape videos were stuff learned in the military but others from just day-to-day life," he said.
He revealed that this particular video was the result of multiple requests from followers.
Robin explained: "This video was made for people traveling to less desirable areas or more dangerous areas. I have received many requests from flight attendants and people that travel often by themselves."
"Although there are no statistics about people opening up hotel rooms, whether it is the staff, maintenance, bell boys or someone with bad intent, we all know someone that has a story like that," he added.
"I made this because some of the hotels I travel to have outdated security, this is just a step up to ensure no one enters the room."
Correction: 07/29/21, 7:30 a.m. ET: The article was corrected to clarify that Robin was a Dutch Royal Marine rather than British. This article was also updated with comments from Robin and an image from his TikTok account.