Video of Mark Meadows Complaining About Subpoenas Being Ignored Resurfaces Amid Indictment Threat
A video of former Representative Mark Meadows, a North Carolina Republican, complaining about congressional subpoenas being ignored has resurfaced as he refused to appear to testify before the House select committee investigating the January 6 attack against the U.S. Capitol on Friday.
Meadows, who served as former President Donald Trump's White House chief of staff from March 2020 until January 2021, ignored a subpoena to appear for a private hearing before the committee on Friday morning. The same day, former Trump administration official Steve Bannon was indicted by a grand jury for criminal contempt of Congress over his refusal to comply with a select committee subpoena.
MSNBC resurfaced a clip of Meadows, who was key to promoting Trump's election fraud claims, complaining during a July 2018 Fox News interview that then Deputy Attorney General Rod Rosenstein had not complied with congressional subpoenas. That interview came as Meadows and Representative Jim Jordan, an Ohio Republican, filed impeachment articles against Rosenstein due to their frustration with his actions.
"For nine months we've asked for documents—and that's all we want are the documents. And what we found is not only have subpoenas been ignored, but information has been hidden. The efforts have been stonewalled," Meadows told Fox News host Laura Ingraham at the time.
"And I guess for us, it's all about transparency so the American people can judge for themselves," he said. "So they may be able to ignore Congress but they can't ignore the American people."
Although Meadows quickly backed off his impeachment threat against Rosenstein in 2018, it came as a result of the latter's involvement in the probe into Russian interference in the 2016 election. "Multiple times we've caught DOJ officials hiding information from Congress, withholding relevant documents, or even outright ignoring congressional subpoena," Meadows said in a statement at the time.
As it did with Bannon Friday, the House select committee has threatened to issue a criminal referral against Meadows due to his refusal to comply with its subpoena. Representative Bennie Thompson, a Mississippi Democrat who chairs the select committee, warned Meadows' attorney in a Thursday letter that he had "no valid legal basis" for his "continued resistance to the Select Committee's subpoena."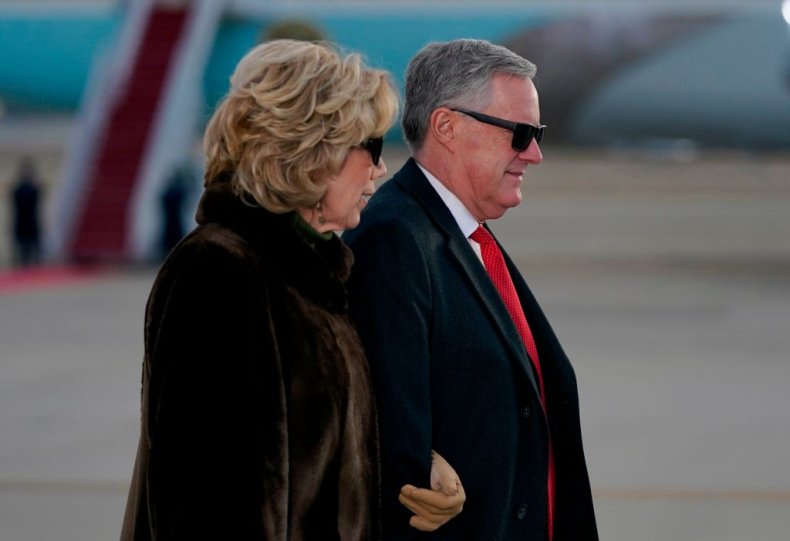 Trump has urged his allies to refuse to comply with the committee's probe, arguing that they are protected by executive privilege. Litigation over the former president's claim is moving through the courts, but a grand jury indicted Bannon on Friday due to his refusal to cooperate with Congress.
Newsweek reached out to Meadows' lawyer on Saturday for comment but did not immediately receive a response. His attorney's office told Newsweek on Friday that Meadows is locked in a "sharp legal dispute with the committee."