A video of Senate Minority Leader Mitch McConnell saying Black voters are "locked down against Republicans" resurfaced online as he faces criticism for remarks this week in which he appeared to distinguish between "African Americans" and "Americans."
In the 2015 video, which shows the Kentucky Republican speaking at the Aspen Institute, McConnell addresses his party's shortfalls with Black voters, who typically back Democratic candidates.
"Even before the president's rise, we were getting blown out by African American voters, and we still are," he said, referring to then President Barack Obama. "I wish it were otherwise, but there are some very impressive African American Republicans."
He went on to say he believes Latino voters are "more open to" Republicans than Black voters, who are "locked down against Republicans," noting that he hopes that changes.
The clip resurfaced along with another where McConnell said "my party does really good with white people, and I'm proud of that," while also acknowledging that Republicans "need to do better with Hispanic Americans" to find more electoral success.
McConnell faced social media criticism from Democrats for the 2015 remarks.
"It's like the civil war never happened," wrote Joe Lockhart, who served as press secretary for former president Bill Clinton.
"Well Mitch, lucky for me, my party does well with all people. I don't target one demographic. I try my damndest, to be the candidate that governs for all. Funding public schools, securing fair elections, paid leave. You know, the stuff you and your pals don't like," wrote Democratic Florida State Senate candidate Mike Harvey.
Historically, Republicans have struggled to break through with Black voters. According to the Pew Research Center, former President Donald Trump won only 8 percent of Black voters during the 2020 presidential race—a narrow improvement from 2016, when he won 6 percent.
Meanwhile, Republicans did make some inroads with Hispanic voters, losing them by 21 points in 2020. In 2016, Democrats won Hispanic voters by 38 points, according to the Pew Research Center.
The remark from McConnell that sparked widespread criticism this week came during a news conference on Wednesday. During it, he accused Democrats of "fake hysteria" surrounding voting rights legislation, which would have expanded voting access and made Election Day a national holiday, among other things. Reporter Pablo Manríquez asked McConnell what his message was for people of color who were concerned about their voting rights.
"Well, the concern is misplaced," McConnell said. "Because if you look at the statistics, African American voters are voting in just as high a percentage as Americans."
The backlash was swift.
Bishop Talbert Swan tweeted in response: "I wonder what's the difference he sees between 'African-American voters' and 'Americans.' Can't qwhite put my finger on it."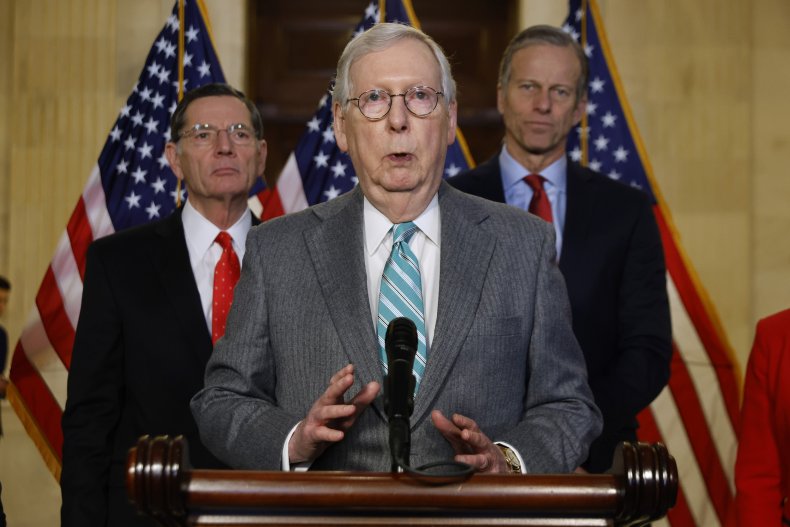 On Friday, McConnell blasted the criticism, saying had made an "inadvertent omission."
"This outrageous characterization of my record as a result of leaving one word out inadvertently the other day, which I just now have supplied to you, is deeply offensive," he said, according to The Hill.
Newsweek reached out to McConnell's office for further comment Saturday. This story will be updated with any comment.