Video of Men Having Remote Control Car Battle Royale Captivates Internet
It was described by one Redditor as a remote-controlled royal rumble, and it ultimately lived up to the hype.
A video posted on Reddit's "Damn That's Interesting" forum, titled "Council of men enjoying their leisure time," has been upvoted 81,200 times and is exactly as described: A group of men stand together and encircle a low platform containing a plethora of remote-controlled cars in a so-called battle to the death.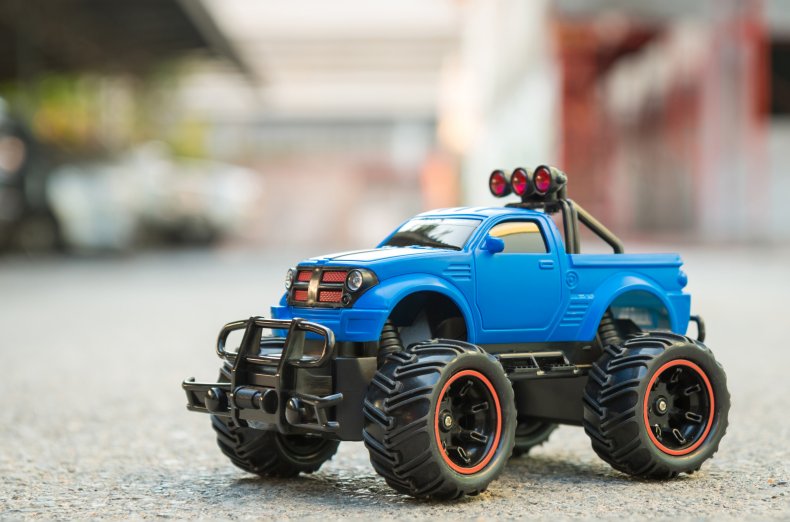 Some have remotes while others observe the ruckus. The video started with 13 cars on the circular platform and chaos quickly ensues, with cars being thrown off the edge while others flip to their side and hang on for dear life.
Ultimately, the final two cars going head-to-head were a red and green car—the latter of which spent "about 90 percent of the time" on its side, as one Redditor described. In a surprising course of events, the green car flipped from its side to its normal position and nudged the red car off the platform for an exhilarating finish.
The origins of the video are unknown, although some speculated it revolved around St. Patrick's Day due to four-leaf clovers painted all over the platform—which seems to have been placed on multiple buckets sitting on concrete.
A news report from Chico, California, AMain Hobbies' third annual City Crawl featuring remote-controlled car—or RC car—events and obstacles may have been where the video was taken, considering the words "City Crawl" were written on the four-leaf clover-covered platform. Newbies and enthusiasts were present for the third such event, but it remains unverified whether the Reddit video was taken here.
RC cars can even help in the winter. Motor1 reported that a YouTube video featuring an RC Jeep Gladiator with a functional snow plow attachment swept away flakes in North Carolina.
Redditors joked about how entertaining the match was, especially considering nobody really knew what was going on or how the match was designed. Users even picked their favorite cars to root for.
"Rewatched the whole thing just to see how the green car did for the whole battle," one user said. "[I]t was on its roof 90 [percent]! Go little green dude!"
"This is so stupi...green! go green! come on green! GREEN!" another user said.
"The hell am I watching?!?" one user joked. "15 seconds later...'LET'S GOOOO!!!!'"
A 2020 U.S. Bureau of Labor Statistics report stated that on an average day in 2019, about 95 percent of Americans aged 15 years and older "engaged in some sort of leisure activity"—including watching TV, socializing or exercising.
Watching TV accounted for most leisure time, exceeding more than half of the total daily amount. Those between the ages of 15 and 24 engaged in most sports- or exercise-based activities, followed by a huge drop-off in age-based participation.
Men enjoyed leisure activities a little more than women, spending an average of 5.5 hours daily as opposed to an average of 4.9 hours for women such as watching TV, socializing or exercising.
"Other leisure and sports activities, including travel" was nearly a virtual tie between those ages 15-19 and 65 to 74.