Video: Michael Avenatti Asks Fox News Host Tucker Carlson When He Last Watched Porn
Michael Avenatti, the lawyer of adult film star Stormy Daniels (real name Stephanie Clifford,) asked Fox News host Tucker Carlson when he last watched porn during a heated interview on Thursday evening.
Both Avenatti and Carlson have been taking swipes at each other over the past few weeks—and within the first two minutes of the interview on Tucker Carlson Tonight, the Fox News host and celebrity lawyer butted heads again when Carlson talked over Avenatti during an argument about what they would discuss that evening.
Avenatti said: "Tucker, you gotta stop interrupting me. One of the conditions of me coming on tonight was that you are not going to do what you do routinely to guests, which is talk over them and interrupt them, so just let me finish with my answer,"
Carlson responded: "I said I would give you a fair interview. I actually don't have an interest in squabbling with you at all, or name calling. I've done a lot of that to you and you've done it to me."
"No, but not to my face," the lawyer snapped.
Later in the volatile interview, Carlson asks Avenatti to describe the injury to his client Stormy Daniels and whether he believed that President Donald Trump was morally obliged to disclose the details of his affair with the rest of the country.
Tucker explained: "As far as I know, this was a consensual sexual relationship, and yes I believe it occurred, I don't know that but it seems like it did. But it seemed consensual and she was paid at the end of it. I feel that you and others were exploiting her. So I feel bad for her. I'm wondering what the injury is for her."
Avenatti said: "The injury is that the agreement that was entered into was not adhered to by Michael Cohen and Donald Trump. They did not fulfil their end of the bargain. Now do you want to talk about the injury to the American people? The injury is that he and Michael Cohen and others, lied to the American people and covered up the $130,000 payment and violated campaign finance laws."
Carlson then accuses the attorney of profiting from Daniels while she continues to work in "strip clubs," to which Avenatti responded: "Sir, this is absurd."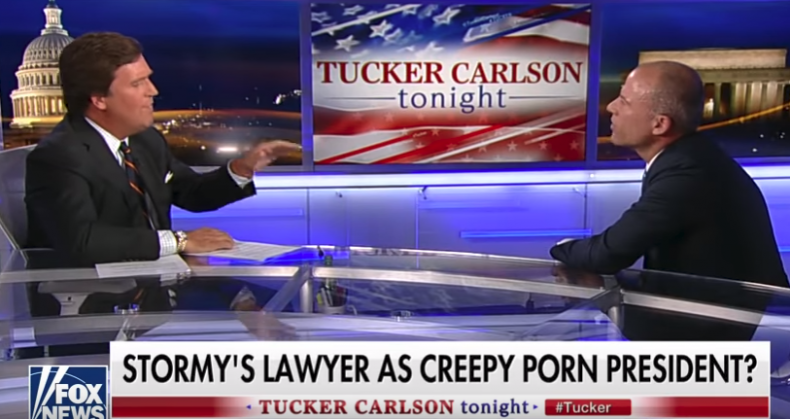 The two continue their argument for another few minutes, with Avenatti accusing Carlson of being too lenient on Trump while "demeaning" his adult film star client. During this exchange, the lawyer also asked Carlson when he last watched porn.
"Why don't you show some respect to my client and me and stop calling us a porn star and a 'creepy porn lawyer?' If you've got that big a problem with porn––do you have that big a problem with porn?" Avenatti asked.
"I'm not making fun of––hold on, slow down!" Carlson replied, before the lawyer quickly responded: "When's the last time time you saw porn?"
"Oh, you busted me. Actually, maybe humiliation porn. That's why I watch you on CNN," the Fox News host said.
"When's the last time you viewed porn?" Avenatti asked again.
"You're a little creepier even then I realized," Carlson said.