VIDEO: Michael Jordan Slaps Malik Monk's Head after Hornets Get Technical Foul for Celebrating Win too Soon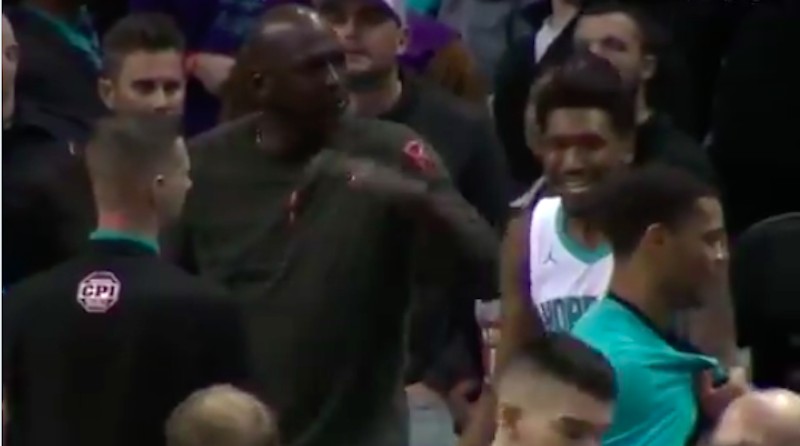 The Charlotte Hornets learned a valuable lesson on Wednesday night: don't celebrate too soon.
The Hornets were given a technical foul for having too many players on the court while celebrating a win over the Detroit Pistons prematurely. Owner and NBA legend Michael Jordan, who was sitting courtside, was seen scolding players, including guard Malik Monk, who he appeared to playfully slap upside the head via footage from WCCB in Charlotte.
Jeremy Lamb hit a 22-foot jumper with 0.3 seconds remaining, which was reviewed by officials to see if it counted after Hornets players were given the technical foul. The basket was upheld and Charlotte won, 108-107, despite facing a 10-point deficit in the fourth quarter.
During Lamb's celebration, referees quickly blew the whistle and checked the monitor to see if there were too many players on the court at the time of the shot. Apparently, Monk and later Bismack Biyombo had come off the bench and run several yards onto the court as they expected Lamb's shot to go through the rim at the other end.
"I thought they were going to call like three techs, get three free throws -- something like that," Lamb said via the Associated Press.
During the replay, Monk was met by Jordan, who chewed him out from the end of the bench. The slap, however, seemed light-hearted, as the second-year guard smiled while walking away.
Detroit trailed 108-106 at the time of the whistle and was only given one technical foul shot, which it made. The Pistons' ensuing long inbounds pass was intercepted as the clock hit zero.
"My heart stopped for a second there," said Hornets coach James Borrego, who said he had never seen that call made in professional basketball.
Referees left the arena after the game and weren't available for comment after the AP requested clarification of the call.
The Pistons players didn't point fingers at the officials for their loss on Wednesday. Guard Langston Galloway was more frustrated about the team going almost six minutes without a field goal in the fourth quarter, which allowed Charlotte to rally from a 10-point deficit and Lamb to hit the game-winner.
"I can't get into the he-said, she-said," Galloway said. "We just have to take away that basket and not allow him to get a good shot like that."
Kemba Walker, who assisted Lamb on the game-winning jumper, finished with 31 points, nine assists and eight rebounds, extending the Hornets' winning streak to three games and helping them move into sixth place in the Eastern Conference -- a half-game ahead of the Pistons.