Video: Michelle Obama Reads List of Things She Just Could Not Say As First Lady
On Thursday night, Michelle Obama appeared on Jimmy Kimmel Live! to talk about her new memoir, Becoming, which, among other things, details her experiences of being first lady.
During the interview, Kimmel decided he was going to have some fun with her, noting that while she was living in the White House, she had to be careful about what she said.
"I spoke to your husband about this also," Kimmel said. "Because he jokes around a lot but then you realize, 'Oh, I have to maybe reel it in because of the position I have.'"
"But you're not first lady anymore. And as far as I'm concerned, you can cut loose and really say anything now," he said mischievously, prompting laughter from the audience.
Kimmel then explained to Obama that he had come up with some statements that she probably would liked to have said during her time as first lady—but could not—and asked her to read them out.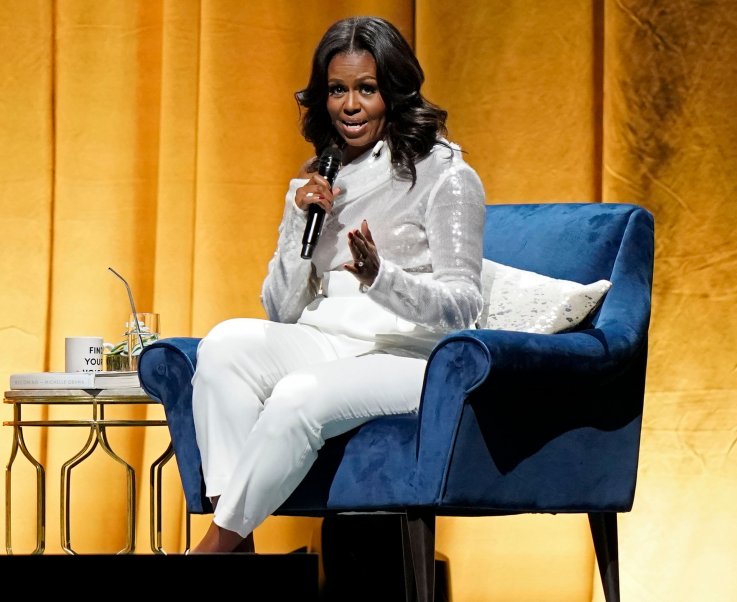 Obama, unsure of what was coming next, tentatively accepted the challenge and proceeded to read out a series of cards that Kimmel gave her. Here's part of the conversation that followed:
Obama: "I've never eaten a vegetable."
Kimmel: "I knew it, I knew it."
O: "The whole eight years we were in the White House, we used Laura Bush's Netflix password."
K: "Really? Wow, it's a revelation."
O: "Laura, sorry, send me the bill."
O: "I'm not sure which one's Sasha and which one's Malia."
O: "You know, they agree. They get so mad every time I mess their names up."
K: "Alright, couple more, these are important."
O: "I stole the phrase 'when they go low, we go high' from the back of a Snapple Cap."
O: "Barry! Be quiet and hold my purse."
K: "And your final outrageous statement to make now that you're no longer first lady…"
O: "Clooney is my freebie."
Aside from her time in the White House, Becoming chronicles Obama's formative experiences from growing up on the South Side of Chicago to her years as an executive balancing the demands of motherhood and work.
She also opens up about other issues, such as the pressure and intense scrutiny that she and her family faced living in America's most famous address and her feelings towards the Trump presidency.
Video: Michelle Obama Reads List of Things She Just Could Not Say As First Lady | U.S.