Video: Milwaukee Cyclist Bursts Past Police Line to 'Defuse' Suspicious Package, Gets Tackled by Cops
Police in Milwaukee, Minnesota, investigating a suspicious package were forced to tackle a man after he decided to take matters into his own hands and "defuse the situation" himself.
Officers and the bomb squad were called after a backpack was left on the street outside a pub in W. Wisconsin Avenue on Monday morning (May 21).
While the bag was still being treated as a potential explosive device, a cyclist rode through the police tape cordoning off the area and proceeded to open it up throw out its contents.
Footage taken at the scene shows the man discarding water bottles, clothing and what appears to be other camping equipment before he is he is dramatically taken down by three officers.
Eyewitnesses described how they feared the man was "going to get blown up " because of his reckless behavior.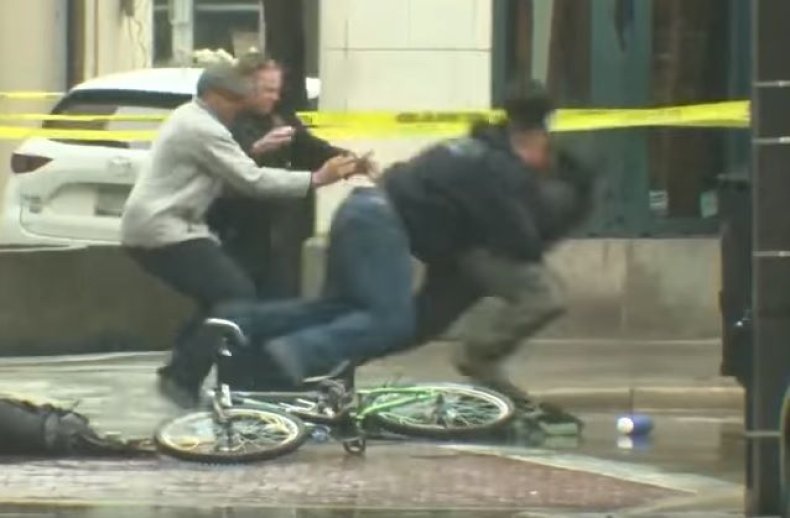 "He rode past me and he was saying, 'I'm going to defuse this situation,'" Robert Harris, the man who called in the suspicious backpack, told WTMJ-TV. "I was concerned for everyone still around but really concerned for him. He was not acting in his right mind.
"If I would have saw him coming down the sidewalk earlier, I would have tried to stop him. It's a scary situation. You don't know if it's a bomb or backpack. When he went and did it, I thought oh no. It's not going to end well. It's going to end bad."
According to the Milwaukee Journal Sentinel, Milwaukee police said the FBI made the first contact with the cyclist. He was later taken into custody.
Milwaukee police have not released further details on the incident, including what charges the cyclist could face.