Video: Mother's Day Hero Shoots Gunman Who Attempted Robbery Outside School
A police officer answered the call of duty on her day off when an armed man attempted to rob women and children waiting for a Mother's Day party to begin at a school in Suzano, a city near São Paulo, Brazil.
The school's CCTV camera captured the moment the gunman approached the group of people on Saturday morning, raising his gun and trying to steal a bag. Unbeknownst to him, 42-year-old police officer Katia da Silva Sastre was one of the women in the crowd.
She quickly drew her gun and fired at a close range, hitting him in the chest and leg. He fell on his back and aimed the weapon at the woman before he let go of it and surrendered. She took his gun and held him within shooting range until she thought it was safe to approach him, turning him around so he'd be lying on his stomach, neutralized, until the emergency services arrived.
The gunman, identified as 21-year-old Eliventon Neves Moreira in Brazilian media, was taken to a hospital, where he died of the injuries.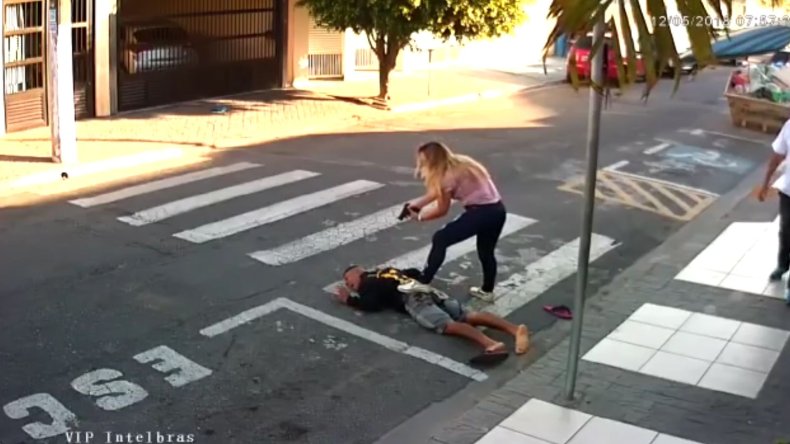 Da Silva Sastre, a corporal in the military police, received praise for her actions at a ceremony in her honor on Sunday. The governor of São Paulo Márcio França described the mother of two as "very brave" and her reaction to the gunman as "technically perfect" in a video uploaded on Facebook.
The officer, who has two decades of experience in the military police, said she wanted to shoot the man at a close range and neutralize him before he could hurt anyone. "I just thought about defending mothers, children, my own life and my own daughter," da Silva Sastre told Brazilian newspaper O Globo.
"It's gratifying to have saved lives," she added, quoted in the local newspaper Folha de S. Paulo. "It's why we are in this profession, to protect lives, and that's what I did."
The incident and the governor's appraisal of the officer's lethal response also raised questions about how the police deal with violent confrontations. Colonel Marcelo Vieira Salles, the newly installed commander of the São Paulo military police, pledged to reduce the number of people killed during confrontations with officers, which, he told Folha, are "20 a month" in the state of São Paulo alone.