Video: MSNBC's Rachel Maddow Chokes Up Reporting on 'Tender Age' Shelters
MSNBC host Rachel Maddow choked up live on air last night while reporting on the Trump administration's "tender age" shelters which house infants and toddlers.
During The Rachel Maddow Show on Tuesday evening, Maddow broke down while reading an Associated Press report on southern U.S. border shelters that are detaining children under the age of 13 after they are separated from their parents. The host stopped at the description of the facilities and asked for the graphic to be put up before deciding to cut the segment altogether.
"I think I'm going to have to hand this off, sorry," Maddow said before passing the segment on to the next host, Lawrence O'Donnell.
Shortly after the incident, Maddow took to Twitter to apologize to her viewers and shared the story that she couldn't finish on air. "Ugh, I'm sorry. If nothing else, it is my job to actually be able to speak while I'm on TV," she wrote in a thread.
In another tweet, Maddow posted the original Associated Press story that she was reading from. "Again, I apologize for losing it there for a moment," she wrote alongside the article. "Not the way I intended that to go, not by a mile."
"Trump administration officials have been sending babies and other young children forcibly separated from their parents at the US-Mexico border to at least three 'tender age' shelters in South Texas," Associated Press reported.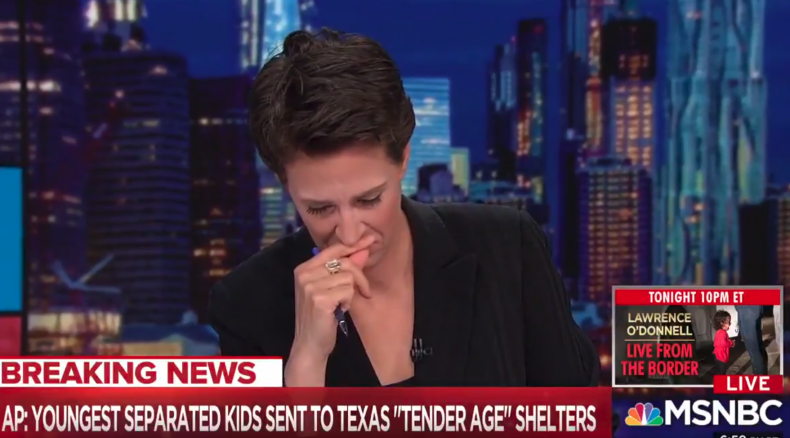 The incident comes amid growing backlash over the Trump administration's "zero-tolerance" policy on immigrants, which includes taking children away from their parents at the U.S.-Mexico border. Since the policy was announced in April, dozens of lawmakers and public figures, both Democrat and Republican, have called on the president to rescind the policy.
However, Trump has refused their requests, instead blaming Democrats for forcing him to implement it. "It is the Democrats fault for being weak and ineffective with Boarder Security and Crime. Tell them to start thinking about the people devastated by Crime coming from illegal immigration. Change the laws!" the president tweeted on Monday.
Video: MSNBC's Rachel Maddow Chokes Up Reporting on 'Tender Age' Shelters | U.S.