Video: Naked Man Jumps Into Shark-filled Aquarium Tank, Was Wanted for Serious Violent Assault Before Death-Defying Swim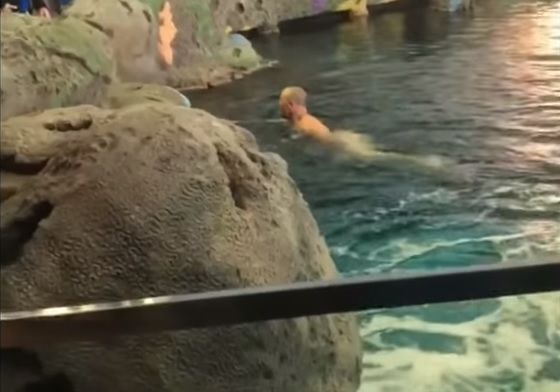 A man who was filmed swimming naked with sharks in an aquarium tank in Toronto was also sought by police for an alleged violent assault earlier in the evening.
The man, later identified as 37-year-old David Weaver of Nelson, British Columbia, was recorded brazenly stripping off and jumping into the tank at the Ripley's Aquarium of Canada on the evening of October 12.
Weaver spent several minutes swimming around with sharks to the shock and bemusement of visitors before eventually getting out and fleeing. Video footage of Weaver's antics was posted online, gaining tens of thousands of views in the process.
Toronto police launched a public appeal to find Weaver, who was wanted on suspicion of mischief related to interfering with property following the skinny-dipping incident.
Now, officers also want to speak to Weaver in connection with an attack that occurred about 2 miles away from the aquarium earlier in the evening, in the area around Dufferin Street and Saskatchewan Road.
Weaver is now also wanted by police on suspicion of assault causing bodily harm. He is described as 5 feet 10 inches tall, and weighing 220 pounds, with a heavy build, shaved head and a goatee. He is missing a front tooth.
Weaver was also believed to have been driving a green Dodge Caravan with a British Columbia license plate reading PL120G.
"Anyone with information is asked to contact police at 416-808-5200, Crime Stoppers anonymously at 416-222-TIPS (8477), online at www.222tips.com, online on our Facebook Leave a Tip page, or text TOR and your message to CRIMES (274637)," Toronto Police said in a statement.
Police did not provide information regarding the victim of the alleged attack.
Shocked onlookers said even though Weaver appeared to be enjoying himself, they feared the worst when they saw him in the shark-filled tank.
"The guy seemed totally relaxed, and there were sharks everywhere," Erinn Acland told CBC Toronto. "He appeared to be totally nude and laughing.
"I don't know what would possess someone to do that. It's totally insane to me," she added. "I was scared I was going to witness the death of this guy."
General manager Peter Doyle also condemned Weaver's actions. "It's very dangerous for both the individual as well as our animals," he told CBC Toronto. "An animal's health and welfare is paramount to what we do."
The Dangerous Lagoon tank is the largest exhibit in the aquarium, holding 2.9 million liters of water and housing dozens of marine animals, including sea turtles, eels and 17 sharks, according to the website.