Video: NBC Forced to Cut to Commercial During Democratic Debate After Technical Glitch That Trump Dubbed 'Truly Unprofessional'
Chuck Todd was forced to cut to a commercial break during NBC's Democratic debate on Wednesday night amid technical difficulties that were weaponized by President Donald Trump.
During the debate, featuring 10 of the 20 presidential candidates set to take part across two separate sessions, moderator Todd was attempting to ask a question about gun control when other voices could be heard in the room.
It was NBC's prior moderators, whose conversations were also being broadcast through their still-hot microphones. After initially believing the problem to be resolved, Todd attempted a second time to ask the candidates his question, before the voices reappeared.
Fellow moderator Rachel Maddow laughed and asked: "What's happening?" An exasperated and laughing Todd said: "We are hearing our colleagues' audio. If the control room could turn off the mics of our previous moderators."
Maddow said: "We prepared for everything. We did not prepare for this," before Todd cut to a commercial break, promising to "get this technical situation fixed."
The previous moderators in the first hour of the debate were Lester Holt and Savannah Guthrie, who were replaced by Maddow and Todd for the second hour.
President Trump had already tweeted "BORING!" during the debate, but he fully let rip at the network, which has taken a stance highly critical of him and his administration, after the technical problems.
Trump tweeted that NBC News and MSNBC "should be ashamed of themselves for having such a horrible technical breakdown in the middle of the debate. Truly unprofessional and only worthy of a FAKE NEWS Organization, which they are!"
NBC did not respond immediately to a request for comment.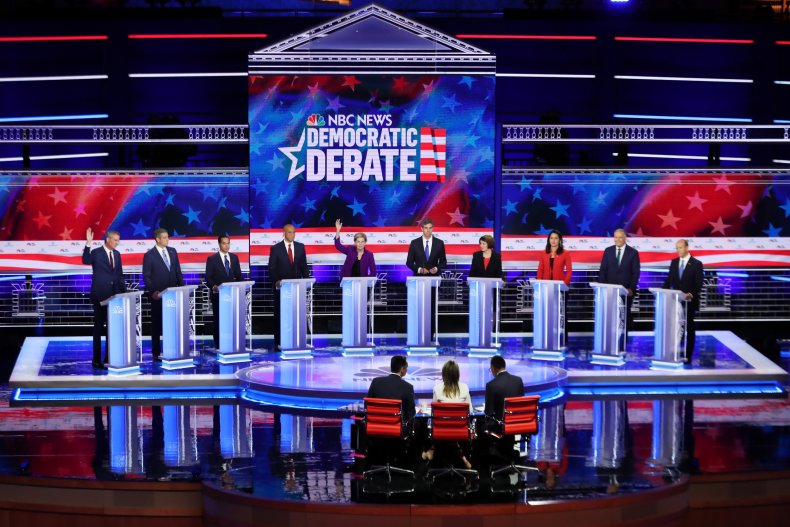 The two candidates regarded as big winners from the evening because of their performances were New Jersey Senator Cory Booker and former Housing and Urban Development Secretary Juan Castro. Both men appeared to dominate the debate and the discussion online.
However, it seemed a poor night for former Texas Representative Beto O'Rourke, who did not produce a standout moment during the crowded debate and delivered a flat performance, though he captured some attention by delivering an answer in Spanish.
Massachusetts Senator Elizabeth Warren put in an assured performance in which she committed to Medicare for All, making her just one of two candidates on the stage to do so, the other being New York City Mayor Bill de Blasio.
The candidate leading the polls in the Democratic Party's 2020 primary, former Vice President Joe Biden, will take part in Thursday night's debate. Also due to appear are Vermont Senator Bernie Sanders, South Bend Mayor Pete Buttigieg, and California Senator Kamala Harris.