Video: Netanyahu Becomes the 'Bibi-Sitter' in Campaign Ad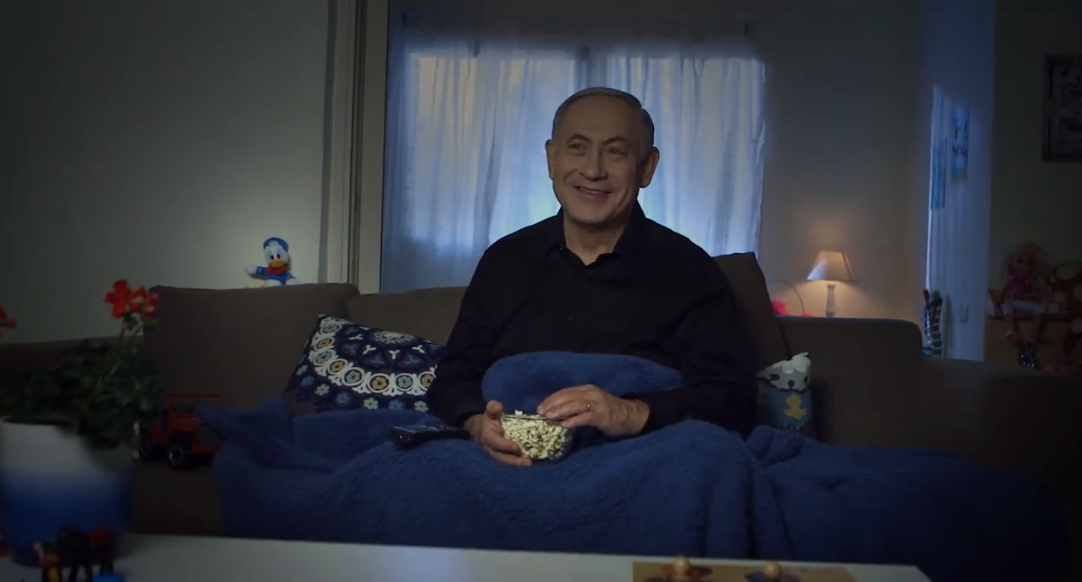 Updated | The countdown to the Israeli elections on March 17 has started, and incumbent Prime Minister Benjamin Netanyahu of the Likud party is pulling out all the stops.
That includes, apparently, portraying himself as a trustworthy babysitter in a TV campaign ad—a more responsible one than his opponents Tzipi Livni and Isaac Herzog would be.
In the ad, a couple is shown running around in a frenzy preparing for a night out when suddenly the prime minister, who is often referred to by the nickname 'Bibi,' knocks on their door.
"You asked for a babysitter, you got a Bibi-sitter! Where are the kids?" he says to the astonished parents when they open the door.
"Look, it's either me, or Tzipi and Bougie," Netanyahu says, referring to the Zionist Camp's Livni and Herzog.
"No no no," exclaims the man, and the three stand around the kitchen joking about the disastrous outcomes that would supposedly befall their home if Livni or Herzog stepped in as babysitter.
At the end of the segment, Netanyahu turns to the camera with a serious face.
"In the upcoming elections," he says, "you're choosing who will care for our children."
The new television commercial was released Saturday, and Netanyahu wrote on his Facebook page Sunday to ask voters to watch and share.
"The upcoming election offers an important contrast between left and right. We must focus on the security of our great nation," he wrote. "Please watch my latest TV commercial, 'Babysitter.'" The embedded video had been viewed nearly half a million times as of Tuesday and liked and shared more than 10,000 times each.
The new video comes after the Central Elections Committee banned another Likud ad—in which Netanyahu sees his opponents as out-of-control kindergartners—for violating rules prohibiting the use of children under age 15 in ads.
A version of the video was posted on YouTube with English subtitles Monday:
This article has been updated to clarify Benjamin Netanyahu's nickname.