Wedding reception surprises caught on camera often have a way of circulating the internet and warranting some major "Awws." One bride surprised her husband in a way only an NFL cheerleading coach could—by having the cheerleaders of the Philadelphia Eagles join her for an "epic" surprise dance routine.
The video, which was posted by the bride, Brielle Gatto Lucas, on TikTok has wracked up over 83,000 views. The video was also posted by one of the cheerleaders, @deja.ellena, who joined her for the dance and her video has been viewed over 5 million times.
The video, which was shot by Brian Jenkins, opens with a shot of Lucas' husband sitting in a chair with his back facing a door as the cheerleaders enter the wedding reception to the beat of Beyoncé's Run the World (Girls). Following shortly behind is the bride dressed in a wedding-inspired cheer uniform—complete with white pom-poms.
In December, another professional sports team and their dancers went viral when a dancer for the Utah Jazz basketball team was surprised on the court with a proposal from her boyfriend.
Newsweek reported that the dancer, Danielle Bush, began dancing with her team as usual during a Monday night game when all of a sudden the music changed to Bruno Mars' Marry You. Her boyfriend snuck on the court behind her holding a little box ready to ask the big question creating the "most epic night" of Bush's life, according to her Instagram post commemorating the big moment.
Lucas works as one of the Philadelphia Eagles Cheerleaders coaches—having been on the team herself previously.
During Lucas' wedding, which took place in December, she and the dancers performed for about two minutes in front of her husband and all of their guests to a medley of Beyoncé songs and the sound of applause.
And to wrap it up, they finished with the song Single Ladies (Put a Ring on It).
Messages of support and praise filled the comment section under Lucas' video which she captioned: "Thank You Philadelphia Eagles Cheerleaders for the most EPIC Surprise to my husband!..."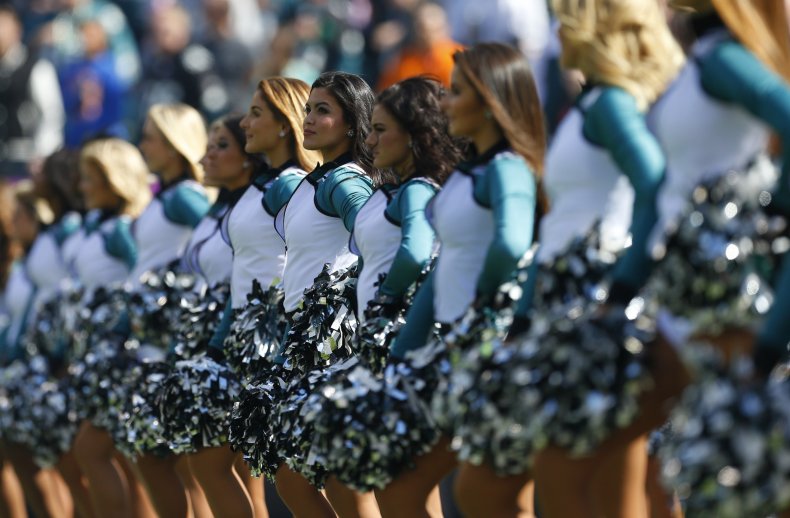 "My eyes stayed locked on you, amazing!!!!," one commenter said.
"THIS IS THE CUTEST VIDEO EVER," another added.
On the version posted by @deja.ellena, thousands of comments flooded under the footage applauding the dancers' work.
"She's the coach AND CHOREOGRAPHER," one commenter wrote. "[P]lus she planned a wedding?!? [S]he's Godly."
"My coach >>> She's such a Star!," @deja.ellena added in a comment below her video. "So honored that she wanted us to be apart of her special day!..."
Newsweek reached out to Brielle Gatto Lucas and @deja.ellena for comment.