Video: Obama Says There Is 'No Greater Threat' Than Climate Change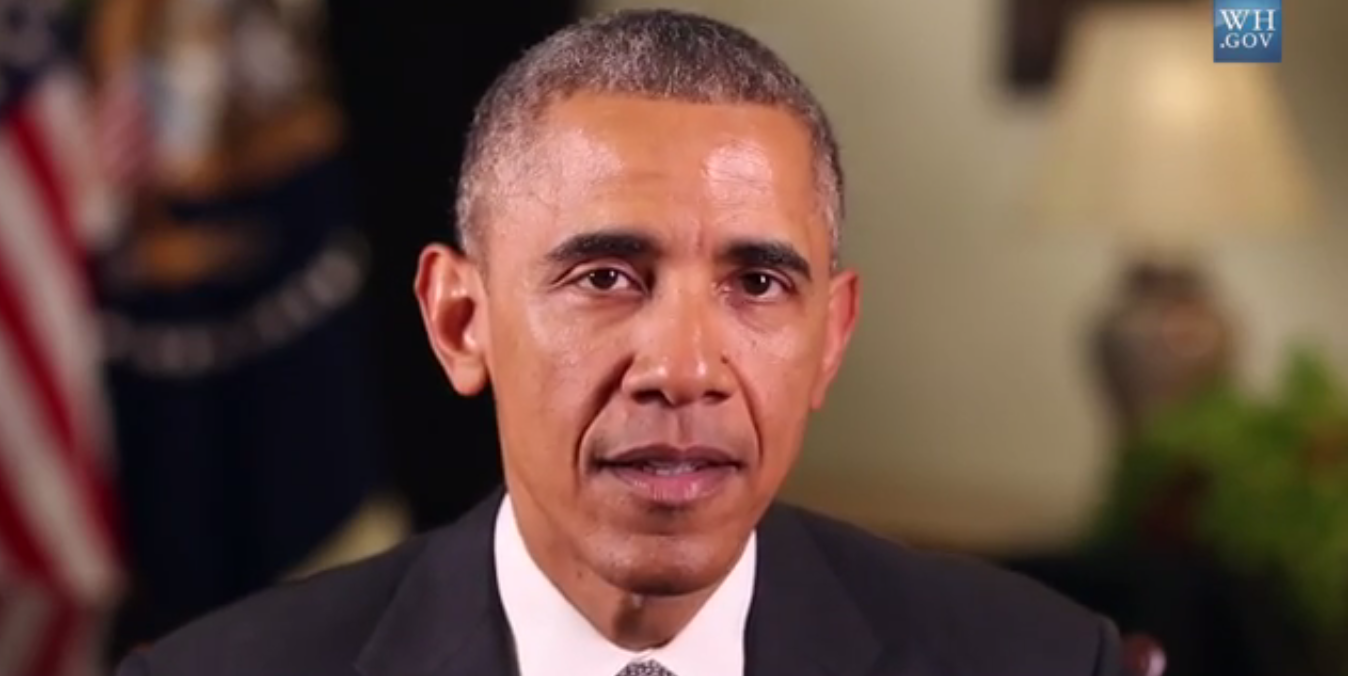 President Barack Obama used his weekly address on Saturday to put the reality of climate change in particularly stark terms.
"Today, there's no greater threat to our planet than climate change," Obama said. "Climate change can no longer be denied, or ignored."
"This winter was cold in parts of our country, as some folks in Congress like to point out, but around the world, it was the warmest ever recorded," Obama said. He noted that 2014 was the warmest year on Earth ever recorded. The 14 hottest years on record, meanwhile, have all fallen within the last 15 years.
"The world's top climate scientists are warning us that the changing climate already affects the air our kids breathe," Obama said. "The Pentagon says that climate change poses immediate risks to our national security."
The address comes shortly after Obama made headlines for publicly drawing a link between his daughter Malia's childhood asthma attack and climate change. "What I can relate to is the fear a parent has, when your 4-year-old daughter comes up to you and says, 'Daddy, I'm having trouble breathing.' The fright you feel is terrible," he said on ABC's Good Morning America earlier this month. "Ultimately, though, all of our families are going to be vulnerable. You can't cordon yourself off from air or climate."
The day before Obama's asthma comments, the U.S. Global Research Change Program (USGRCP) released its draft assessment on climate change and public health, which tracks and analyzes disease trends. While it may be impossible to pin the specific case of Malia Obama's asthma attack on climate change, rates of asthma in the U.S. have more than doubled over the past 30 years, and epidemiologists have drawn a link to climate change.
"Climate change is projected to harm human health by increasing ground-level ozone and/or particulate matter air pollution in some locations. Ground-level ozone (a key component of smog) is associated with many health problems, such as diminished lung function, increased hospital admissions and emergency room visits for asthma, and increases in premature deaths," the draft report reads.
Both of Obama's statements are part of a larger White House initiative to draw attention to the ways that climate change can trigger more severe weather and is affecting human health.
"The most salient arguments around climate change are associated with the health impacts and are ones that meet people where they are, and that requires making an argument around how climate is affecting local communities and individuals," White House senior adviser Brian Deese said in a phone call with reporters earlier this month.