VIDEO: Odessa Firefighters Rescue 2 Cats as Search for Survivors in Kharkiv Continues
As Ukrainian rescuers searched through rubble in Kharkiv for survivors of Russian missile attacks, firefighters in Odessa rescued two cats and a hamster from a residential building where a fire was reported.
The first piece of footage, shared by the State Emergency Service (SES) of Ukraine on March 22, shows first responders cleaning up collapsed and destroyed residential and administrative buildings in Kharkiv, the country's second-largest city. Despite constant missiles and shelling, rescuers persistently perform their duties, conducting "search and sorting" operations, it said.
The second piece of footage, also shared by the SES, shows firefighters at a building in the strategically vital port city of Odessa, in southern Ukraine.
The SES said that at approximately 8:50 a.m. on March 22, "the Rescue Service received a message about a fire in a third-floor apartment in a residential building in Odessa on Koblevska Street."
Authorities said they put out the fire and also rescued two cats and a small hamster. The Odessa footage shows a firefighter holding a startled cat before carrying it down the stairs. The footage also shows another firefighter rushing into the building carrying a hose.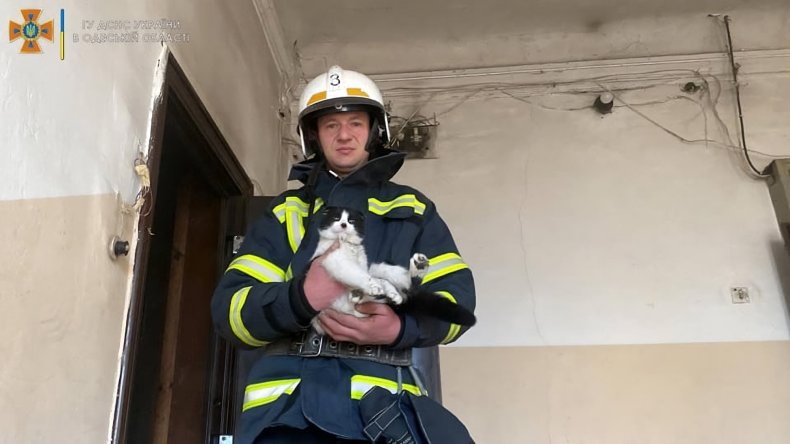 Six days earlier, Ukrainian first responders rescued another cat trapped in the rubble of a destroyed building. The footage was shared on social media by the SES on March 16, noting the humanity of its forces, rescuing people and animals alike.
Kharkiv, much like the city of Mariupol, also in eastern Ukraine, has been devastated by relentless Russian missile strikes. Ukraine's Azov Regiment, also known as the Azov Battalion, shared images they say show Russian forces bombing what remains of the infrastructure of besieged Mariupol.
Conversely, Odessa has been relatively spared so far, as Ukrainian forces have successfully repelled Russian advances on land, most notably at Mykolaiv, which has also been under attack. Odessa is a vital port city, from which numerous goods and supplies are transported to the rest of the country. Ukrainian authorities say Mykolaiv is a "shield" protecting Odessa, which is 82 miles away.
Russian President Vladimir Putin has stated that his so-called "special military operation" is geared toward "de-Nazifiying" Ukraine, playing, in part, on Azov's background as a right-wing extremist group before being officially absorbed into the country's National Guard.
Ukrainian President Volodymyr Zelensky, who is Jewish, has praised rescue workers across the country. He said they are doing jobs usually reserved for military personnel as the country bands together to push back the Russian forces.
Zelensky made the comments last week while honoring five emergency service workers for their courage. He said: "We respect your work and understand that you are doing the same now as our military. Ukraine is grateful to each and every one of you."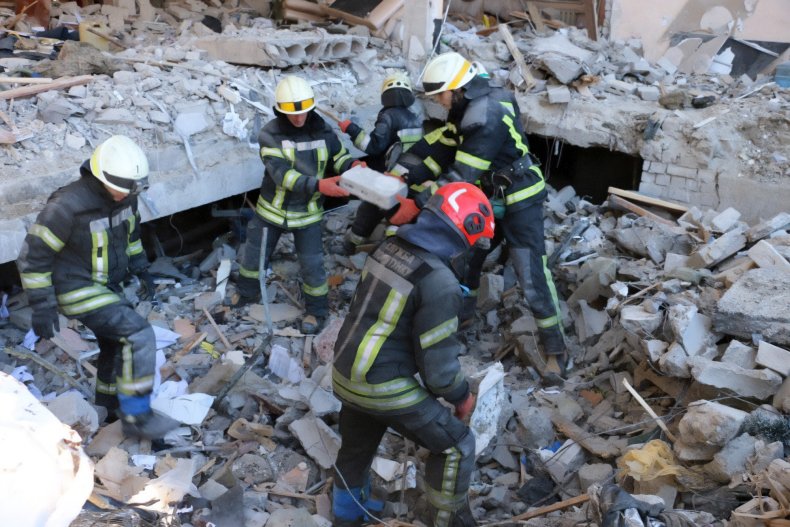 This story was provided to Newsweek by Zenger News.