Video: Cops Tell Journalist to 'Act Like a Lady' As They Arrest Her for Taking Photographs
Police body camera footage appears to show two Denver police officers telling the editor of a Colorado news website to "act like a lady" while they handcuffed and detained her for trying to photograph them as they responded to a call on a public sidewalk.
Colorado Independenteditor Susan Greene was driving near the Colorado State Capitol building on July 5 when she said she noticed Denver police surrounding a nearly naked man, who was African-American, sitting handcuffed on the sidewalk, according to the newspaper.
The Independent said that as a veteran investigative reporter who has "written extensively about police brutality and incidents in which African-American men have been killed by law enforcement while in custody," she wanted to document the incident.
As she approached the scene, however, Greene was immediately stopped by an officer, who the Independent identified as Officer James Brooks.
In the video, the officer tries to block Greene from taking photos, before being joined by a second officer the website identifies as Officer Adam Paulsen.
The two officers tell the journalist that she cannot take photographs because doing so would violate the Health Insurance Portability and Accountability Act rights of the man they handcuffed.
"There's also a First Amendment," Greene responds in the video, adding: "Have you heard of it?"
"That doesn't supersede HIPAA," Paulsen says.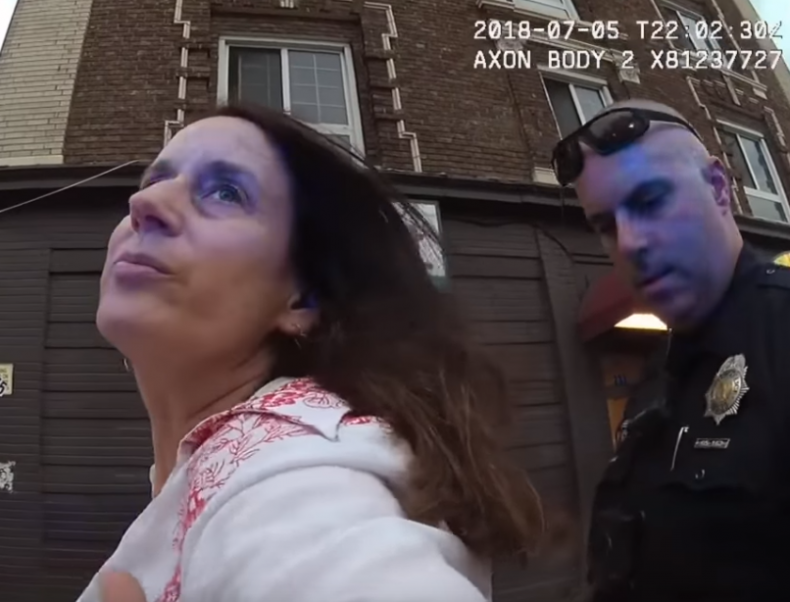 Brooks warns the journalist to "Step away, or you'll be arrested for interference."
Moments after, the officer begins to handcuff Greene, who shouts, "Ow!"
That's when Paulsen tells her to: "Stand up straight" and "act like a lady."
"Are you f***ing kidding me?" the news editor responds. "Act like a lady?"
"There you go," Brooks says. "Now you can go to jail."
As officers direct Greene towards their police car, the journalist says officers are hurting her.
"No we're not," one of the officers can be heard telling her, adding: "Walk normal. Stop resisting."
The Independent has alleged that Greene was held for just over 10 minutes before being allowed to leave.
The website is now considering taking legal action over the incident.
"The one thing we've seen over and over again is the city drag its feet for months and months and months in doing an internal investigation. Certainly we're not going to sit on our hands while the city takes its sweet time to investigate an event that took a matter of minutes,"Mari Newman, a lawyer for Greene and The Independent said in a statement shared by the website.
"If we need to file a legal action to hold the city accountable, so be it," Newman asserted, adding that she believed the officers' claim that Greene had been violating the HIPAA was "ridiculous."
"HIPAA does not apply to an individual on the street. It's designed to protect private medical information—for example, information that a medical provider or an insurance company might have about a patient. HIPAA does not impose any obligations on a private individual walking around on the street," the lawyer explained.
In a statement shared online the Denver Police Department said that police had responded to a report of a man in crisis in the incident.
The department said it has opened a formal internal affairs investigation into the incident "to determine if the officers acted in accordance with department policies."
It said that the Denver District Attorney's Office had already reviewed the case and declined to file formal charge against the officer.
The department maintained that it "respects the First Amendment rights of all individuals."
"Guided by that value, the Department trains officers on First Amendment issues, and recently reiterated to officers the relevant policies involving First Amendment considerations," it said.
It added that on July 10, 2018, just days after the incident, a training requirement to review the applicable policies was sent to all officers and on August 16, 2018, a training bulletin was published for officers to review.
The training bulletin states that officers "may only arrest a recording party when there is probable cause to believe that a violation of the law has been committed."
It states that "arrest, citation or other enforcement actions must not be based solely on the fact that the person is recording police activity."
"If an officer would not arrest an individual if they did not have a recording device, then they should not arrest them simply because they do," it says.
"Right now, the internal affairs investigation remains underway, and therefore it would be inappropriate for the Department to discuss the incident or officers' actions in detail," the department said, adding that the results of the investigation would be made public at the conclusion of the investigation and review process.
Video: Cops Tell Journalist to 'Act Like a Lady' As They Arrest Her for Taking Photographs | U.S.