Video: Orioles' Chris Davis Held Back in Dugout From Going After Manager Brandon Hyde During Game
Baltimore Oriole Chris Davis had to be held back in the dugout from going after manager Brandon Hyde during Wednesday's game against the Yankees at Camden Yards in Baltimore.
As tensions mounted with the Orioles down 6-1, Davis and Hyde exchanged words in the Orioles dugout in the middle of the fifth inning, before the veteran first baseman then apparently attempted to physically assault Hyde.
A video of the incident, shared by MLB.com reporting intern Zachary Silver, shows Davis being held back by coach Don Long and teammate Mark Trumbo as he tried to charge at the manager while he was walking down the dugout tunnel. Later, Hyde returned to the dugout.
"Here's what the MASN cameras caught of the Chris Davis-Brandon Hyde interaction: Appears Hyde said something Davis didn't appreciate, then Davis had to be held back by hitting coach Don Long and Mark Trumbo," Silver tweeted, alongside a GIF of the incident.
Although it is currently unclear what exactly prompted the outburst, Davis is in the middle of his second consecutive harsh season and has another three years left out of seven on his $161 million contract. While it is easy for frustrations to hit boiling points in his position, attempts to attack a manager are very rare.
Davis was removed from the game after the confrontation and Jace Peterson stepped in to pinch hit as Renato Nunez took first base. Later, Peterson grounded out. The Orioles have lost 12 straight games to New York and 13 out of 15 in total this season.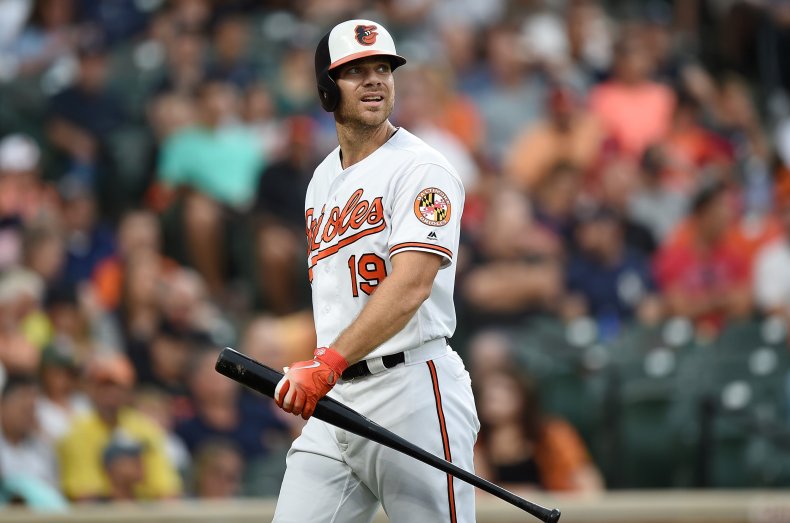 The Yankees were holding on to a 10-1 lead in the bottom of the sixth inning. During the fifth inning, the New York team broke the record for most home runs against a team in one season with 49 homers. The team accrued another in the sixth. The Yankees ended the game with a 14-2 win and five home runs hit.
Davis⁠—who is hitting .182 this season with nine home runs, according to MLB.com—broke the record for the longest hitless streak by a position player earlier in the season with 0-for-49. Davis is reportedly the highest-paid player of the Orioles, according to USA Today.
The Yankees, who have had a phenomenal season, outscored the Orioles 118-62, with four more games between the two teams still to come.