Video: Paragliding Protester Forces Trump to Retreat Inside His Scottish Golf Course Hotel
Police in Scotland are searching for a protester who was seen paragliding towards President Donald Trump while he was staying at a hotel on one of his golf courses.
The stunt, organized by Greenpeace UK, forced Trump to retreat inside the Turnberry Hotel where is he currently staying after his Secret Service officers saw the paraglider in the air on Friday (July 13).
The protester was spotted dangling a sign reading "Trump well below par #resist" as part of the demonstration.
In a statement, Greenpeace spokesman Ben Stewart said: "Trump calls climate change a 'con job' and a 'myth.'
"He pulled America out of the Paris climate accord and overturned the Obama clean power plan that would have slashed American pollution."
"He's committed to burning more dirty coal and overturned the ban on offshore Arctic oil drilling. And that's before you even get to talking about separating kids from their parents and caging them."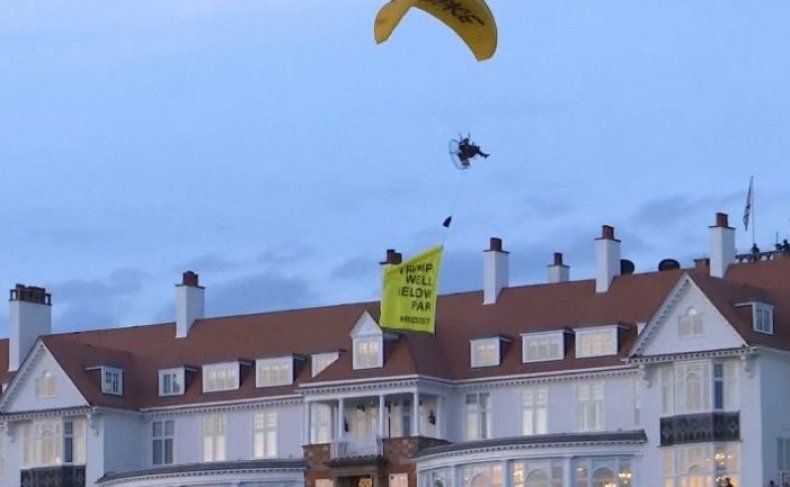 He added: "Theresa May should not have dignified Trump with a visit to the U.K. The vast majority of British people are appalled by his words and deeds. He is, simply, the worst president ever."
Speaking to the BBC, Police Scotland Assistant Chief Constable Mark Williams said the protester was risking his life with the stunt given the number of armed officers who were deployed to the area to protect the president.
"There are armed assets protecting the president—both from the US Secret Service and ourselves and the Met Police, who offer a close protection function as well."
"And there's no doubt anybody who breaches security around him puts themselves in grave danger."
However, Stewart insisted that the stunt "wasn't dangerous at all."
"We let the police know about 10 or 15 minutes before that we were coming in," Steward said.
In a statement, police said they are still searching for the protester. "We are aware a powered parachute was flown in close proximity of the Turnberry Hotel earlier this evening. It is a criminal offence to fly within the airspace restriction zone and officers are carrying out enquiries to trace the pilot," Williams said.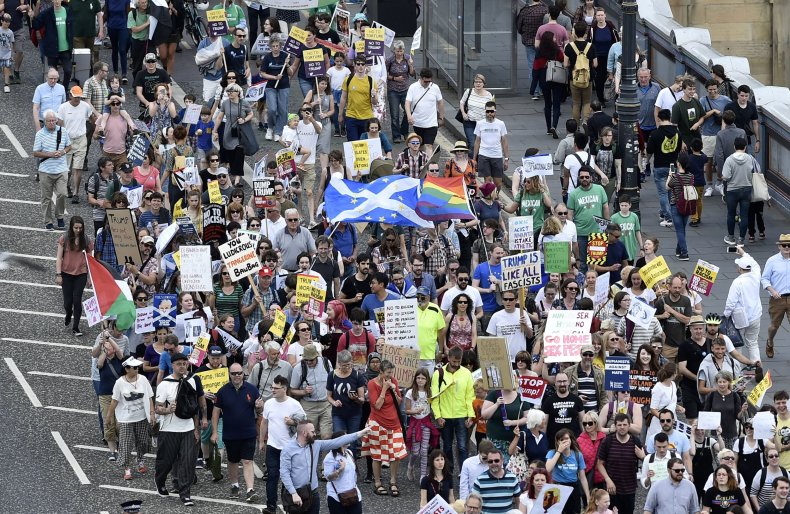 Trump is in Scotland following his two-day official visit in England in which he met with British Prime Minister Theresa May and the Queen.
The visit was met with massive protests across the U.K, with tens of thousands congregating in central London. Scotland have continued the protests against the president, with huge demonstrations taking place in cities such as Glasgow and Edinburgh.
In a tweet, Trump said he is in Scotland for "two days of meetings, calls and hopefully, some golf—my primary form of exercise! The weather is beautiful, and this place is incredible."
Trump is set to depart Scotland on Sunday (July 15) for a meeting with the Russian leader Vladimir Putin in Helsinki, Finland.