Video Parodying Stranded Omaha Trump Rally Attendees Watched Over 3 Million Times
A video parodying Donald Trump supporters who were stranded after attending a rally in Omaha, Nebraska, has gone viral.
In a satirical take on Wednesday night's election event, Blaire Erskine portrayed a fictitious Trump rally attendee. She stood clutching her arms and appearing to shiver as she spoke directly into the camera in a Blair Witch Project-style clip.
"I'm having a great time, I can't feel my body, but I don't really need my body, this is about Trump's body," she joked.
The clip followed reports from fire and police officials that around 30 people received medical attention after a rally at Omaha airport on Tuesday, when supporters were left stranded far from their parked cars and in freezing weather.
An Omaha Police Department spokesperson told Newsweek six people had been transferred to hospital following the rally.
Hundreds were bussed to the Eppley Airfield site, leaving their cars in parking lots, but were left wandering up to four miles in the cold after coaches failed to pick them up.
"Parking at the Trump rally is full," Omaha Police Department tweeted just after 6 p.m.
"Shuttles will no longer be transporting people to the event. You will not be able to access the rally by foot, Uber, or any other means of transportation. Parking is not allowed in surrounding neighborhoods, roadways or businesses."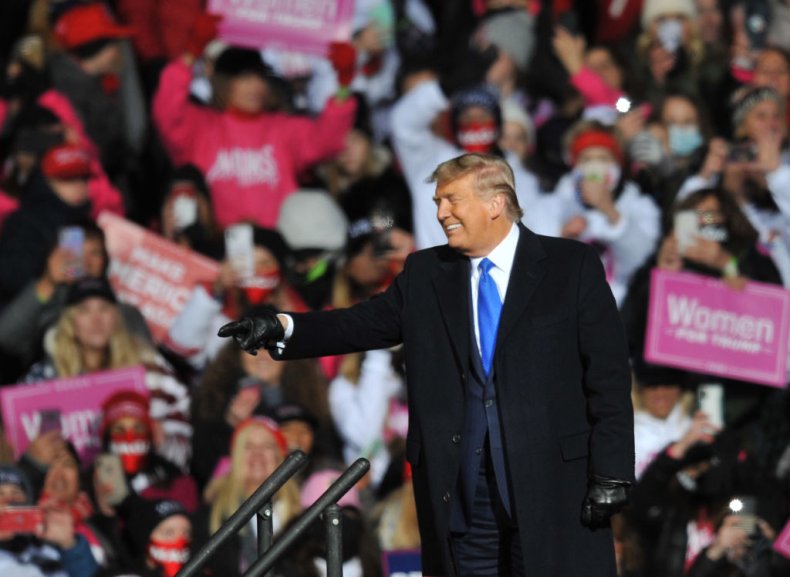 Referencing Trump's claim that the U.S. has registered a high number of coronavirus cases largely because of widespread testing, Erskine said: "Yes I've seen some elderly people passed out and unresponsive, but to be honest the only reason that there are so many of those people is because the media keeps counting them."
In the clip, which has been viewed more than three million times, she added: "I think this whole thing has been blown way out of proportion. Yea, they didn't let us drive our cars here, but it's because they said our cars are poor, and that doesn't look good on TV.
"I think he did this to teach us a lesson, I really do. What was that lesson? That's not really for me to know, and that's pretty nasty of you to ask.
"I would walk 750 miles in below zero temperatures, nip nude, just to hear him speak."
After Erskine's video was shared widely, the Atlanta-based comedian appealed to viewers to donate to the 2020 election campaign of Georgia Democratic Senate nominee Raphael Warnock.
"Georgia deserves better than Kelly Loeffler and Doug Collins," she said. "Raphael Warnock is the leader we need."