An airline has banned one Florida man from flying as a video of him flouting their COVID-19 rules in an absurd fashion has gone viral.
Adam Jenne of Coral Gables was kicked off a United Airlines flight from Fort Lauderdale to Washington, D.C., on Wednesday morning for wearing a red pair of women's thong underwear in place of a face mask. A video of the man being asked to leave the plane over the issue has been viewed nearly 454,000 times on Twitter alone.
Speaking with local news station, Fox 4, Jenne said that he chose the underwear to mock the airline's rules, which he called "silly," while attempting to abide by them all the same. He argued, unsuccessfully, with the flight crew that the underwear should be sufficient, as it covered both his mouth and nose.
"There's nothing more absurd than having to wear a mask until I get to cruising altitude so that I can order Tito's [vodka] by the double and snack on pretzels, and illustrating that absurdity by wearing women's underwear on my face sounds perfect," Jenne said.
In the video, shot on a phone, Jenne can be seen wearing a t-shirt that says "Let's Go Brandon," a conservative meme meant to act as a hidden insult against President Joe Biden.
"You're going to have to come off the airplane," a member of the flight crew can be heard telling him. "We're not going to let you travel."
When Jenne asks why, the crew member tells him that he is "not in mask compliance."
Once Jenne left, another passenger with a mask hanging from one ear asks the flight crew why he was kicked off the plane before eventually leaving himself. Jenne claimed to Fox 4 that a handful of passengers left in support of him.
"Thank you to them, because they saw something, an injustice, something that didn't make sense, and they stood up," he said.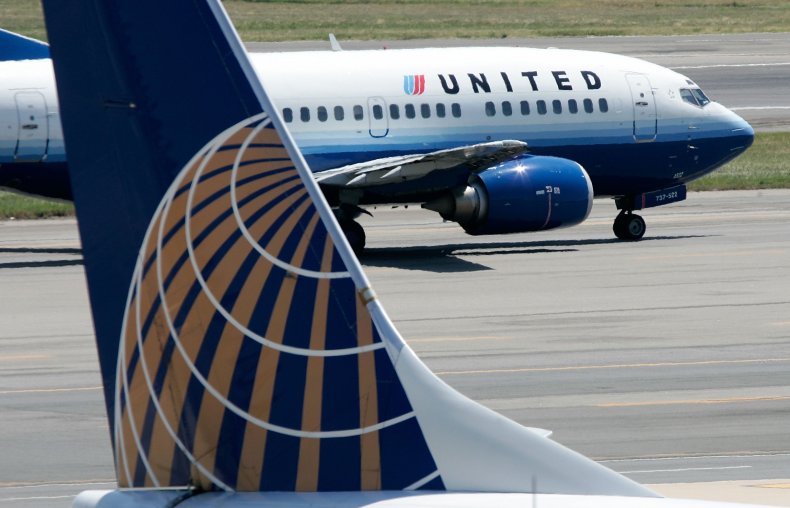 Jenne also claimed to have carried out the same stunt on multiple flights in the past.
"Every single flight has been met with different reactions from the flight crew," he said. "Some with a wild appreciation, others confrontational."
Following the incident, United Airlines emailed Jenne to inform him that he would be banned from flying with them pending a review of his case.
"The customer clearly wasn't in compliance with the federal mask mandate and we appreciate that our team addressed the issue on the ground prior to takeoff, avoiding any potential disruptions in the air," a United spokesperson told Newsweek. "This customer has been banned from traveling with United."
Updated to reflect statement sent to Newsweek by United Airlines.