A viral video captured on a Delta airlines flight from Utah to Hawaii Wednesday shows passengers bursting into applause after a mother gave birth to a baby boy on the plane.
The video was posted to TikTok on Friday by 23-year-old Julia Hansen, who witnessed the live birth mid-flight while traveling to Hawaii with her friend, 23-year-old Siearra Rowlan.
In the video, Hansen captured the overhead announcement informing passengers of the birth, as well as an eruption of applause for the mother, and a crew of medics boarding the plane to provide assistance to the mother upon landing.
"As many of you have heard, we just had a child birth on the aircraft. A nice round of applause for the mother," a flight attendant says, while various passengers can be heard shouting "congratulations."
By Saturday, the video had been viewed more than 1.8 million times on TikTok.
Delta confirmed to Newsweek Saturday that the birth took place over the pacific ocean during the flight from Salt Lake City to Honolulu on Wednesday. The company added that no other information about the birth or family was available, but pointed Newsweek to a statement about its on-flight pregnancy policy.
"At Delta, we don't impose restrictions on flying if you're pregnant and don't require a medical certificate for you to travel. If you're traveling after your eighth month, it's a good idea to check with your doctor to be sure travel is not restricted. Keep in mind when booking, ticket change fees and penalties cannot be waived for pregnancy," the company said.
According to The Washington Post, a doctor and nurses on the flight responded to a call for medical professionals. In an interview with the news outlet on Friday, Hansen said she was dozing off when the pair of friends first heard flight attendants asking if anyone on board was a doctor.
"Everybody's kind of turning back to see what's happening, and then there's a lot of shuffling between flight attendants," Rowlan told the Post. "The speaker goes on and off like they're about to announce something but they don't. Then there's a little baby crying."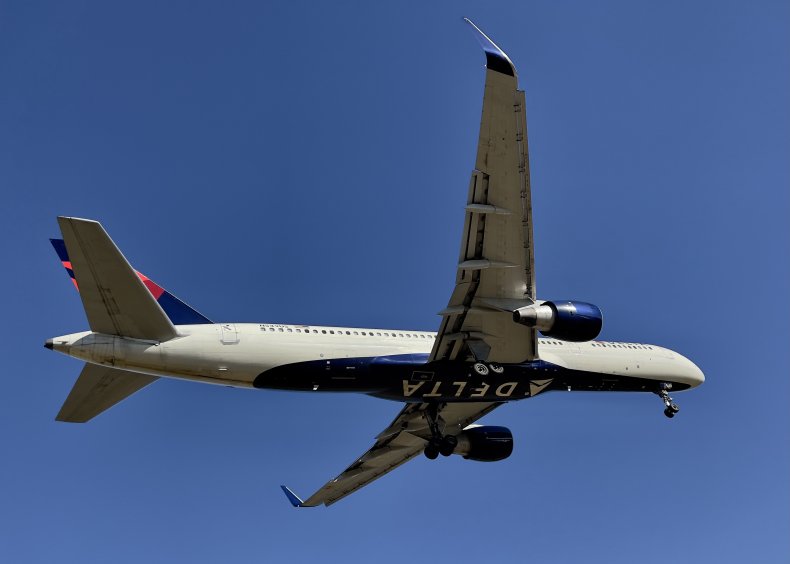 Once the plane landed, passengers waited for the mother to be escorted by medics in a wheelchair, and then resumed exiting the flight as if it were business as usual.
"It really didn't take much time at all," Hansen told the Post. "After she had gotten out, everyone just kind of got up, got their carry-on and left."
"It was so casual ... but one kid was like, 'This is like from a movie scene!'" Rowlan added.
Since the baby was born on airplane, questions about where its birth certificate would be registered began to surface from curious users online.
According to the State Department's Foreign Affairs Manual, a child would still be considered a U.S. citizen if it was born over U.S. airspace, but "a U.S.-registered aircraft outside U.S. airspace is not considered to be part of U.S. territory."
A representative from the U.S. Centers for Disease Control and Prevention (CDC) told the Post that the child's birth would be registered in the state where the plane landed, in this case, Hawaii.
"If a birth occurred en route, that is in a moving conveyance (e.g., an airplane) the place of birth becomes where the newborn was first removed from the conveyance, or in this instance, the airplane," CDC spokesman Scott Pauley said.