Tornadoes have caused extensive damage after touching down in areas across the Midwest.
Dramatic pictures and videos documenting the carnage caused by the terrifying twisters have been uploaded to social media sites.
Madison County Emergency Management confirmed on Facebook the city was under "tornado watch" until 8 p.m. local time. It also urged locals to stay safe.
One set of photos shot by the Weather Channel laid bare the damage inflicted by the funnels of furious wind in Missouri city of Saint Mary.
They showed one building totally flattened by the brutal winds, while another is shown turned onto its side. Another photo showed a car with its windscreen crushed by a fallen tree.
Retired National Weather Service meteorologist Jim Kramper confirmed in a tweet that while the tornadoes were responsible for much destruction, lives are understood to have so far been spared.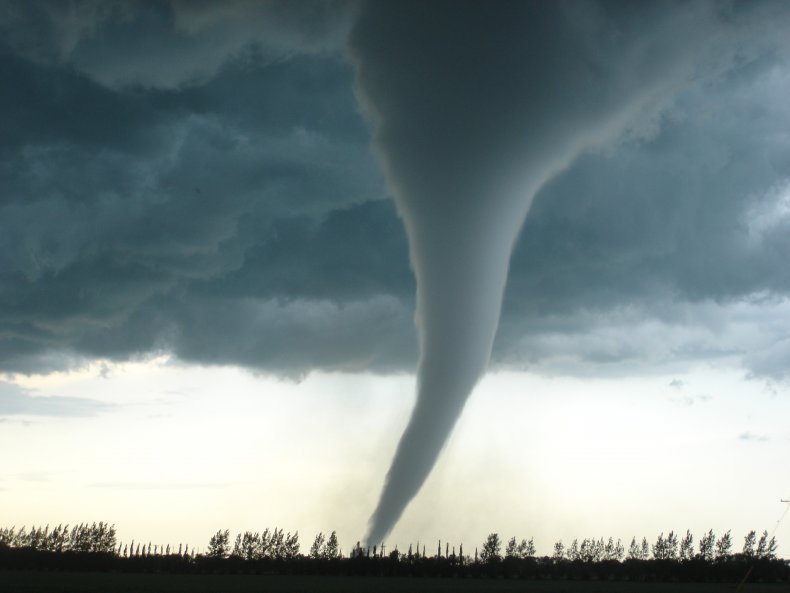 He wrote: "Extensive damage along 72 West up by black river across 67 to Catherine place over to city lake and the fire department are starting to check mine lamotte. We have injuries but nothing about severity."
Tornado emergencies were also declared as twisters raced across towns and cities in Illinois and other parts of Missouri, resulting in extensive storm damage.
KSDK reported flying debris caused damage to mobile homes, roofs, windows and vehicles.
The following conurbations were on standby on Sunday night:
Illinois: Calhoun, Greene, Jersey, Adams, Brown and Pike.
Missouri: Audrain, Boone, Calloway, Cole, Moniteau, Osage, Crawford, Franklin, Gasconade, Jefferson, Lincoln, Montgomery, St. Charles, St. Louis County, St. Louis city, Warren, Washington, Knox, Lewis, Marion, Monroe, Pike, Ralls, Shelby, Iron and Reynolds counties.
The Kansas City Star reported also reported numerous tornado warnings were in place as extreme wind ripped the northeast regions of the state, with local Cierra Thompson quoted as pointing out the abnormally late arrival of the tornadoes.
After noting she has seen "her fair share of tornadoes," she said: "It was truly interesting to see in the middle of October."
While the threat of severe thunderstorms, high winds and hail continues, the latest meteorological update suggests there are now active tornado warnings in the region.
One ominously dark-colored tornado was filmed easily visible against the much lighter atmosphere close to Polo, Missouri, at 3.48 p.m. local time.
The 20-second video clip depicts a tornado in the distance above what appears to be a field of wheat.
Newsweek has contacted the National Weather Service and Madison County Emergency Management for updates.