Video: Police Called After McDonald's Employee 'Sprayed' Homeless Couple With Hose To Force Them Off Street
A McDonald's worker in New York was told off by police officers after allegedly spraying a homeless couple sitting outside the restaurant with a water hose in a bid to get them to leave the store front, video shows.
"They don't want us here and we have a right to be here," a homeless woman, who has not been named, can be seen telling one of the officers in a Facebook livestream shared by civil rights activist Hawk Newsome, who leads Black Lives Matter of Greater New York, an unofficial chapter of the BLM movement.
A McDonald's worker can be seen in the background speaking with another police officer, as the water hose lies across the sidewalk, which is slick with water, surrounded by traffic cones.
The police officer appears to agree, telling the woman: "As long as you're not blocking the doorway, you have a right to be here. It's not illegal to be homeless. You're not breaking the law, you're not bothering anybody."
However, when the camera moves over to the McDonald's worker, the other officer appears to be telling the employee a similar thing: "You're not doing anything wrong," the officer says.
After the homeless woman tells the second officer she just wants McDonald's workers to stop "spraying water" at her, the officer tells her: "They're not touching you. They're not hurting you."
The woman argues, "All of my property has been wet and most of it has been damaged. That does damage me," adding that the McDonald's worker had sprayed them at least three times.
The other homeless person, who the woman says is her wife, also told police McDonald's workers had refused to serve them when they tried to purchase food from the restaurant.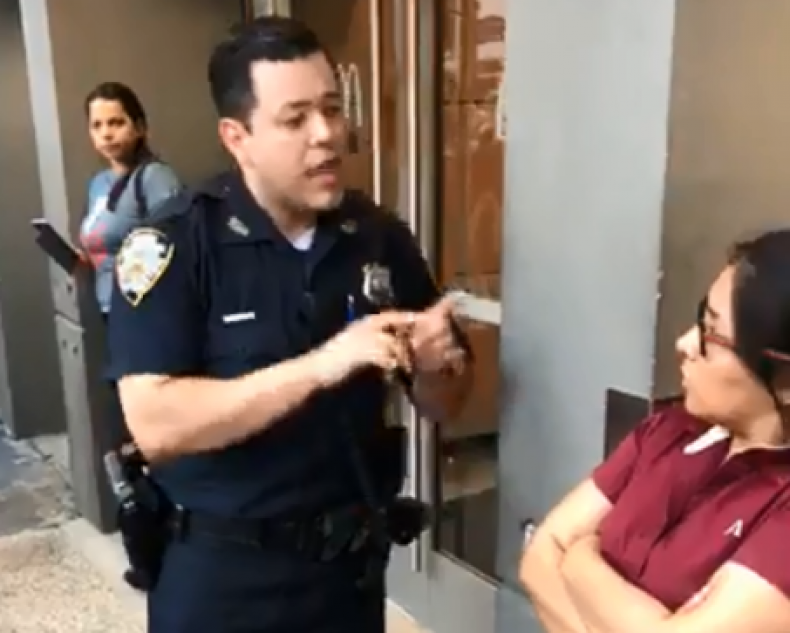 The McDonald's employee involved asserted that she had been cleaning the ground with the hose, however, the first NYPD officer shut down the claim.
"This hose over here, I'm not buying it," the officer says. "You're not cleaning anything, you're just creating a hazardous condition, okay? So, I'm going to ask you to knock it off with the hose please, because I'm not buying it that this is cleaning out here, that you need to clean here three times a day.
"With you leaving that water there, you're making it seem like they're getting discriminated against and being harassed," the officer says, later adding: "Right now, the way this is going, it makes me understand where they're coming from. It makes me feel like you're using the water to harass them."
At one point in the video, Newsome approaches the McDonald's worker and questions her alleged actions, saying: "These people look like us, they're brown and black just like us. McDonald's doesn't care about us. They poison our people with their food."
The incident comes to a close after the officers tell the homeless couple that they should call police if a similar incident occurs in the future.
McDonald's has stood by the employee, however, with a spokesperson telling Newsweek: "We take this matter very seriously. In this particular situation, our employees did their best to avoid any physical contact with the individuals outside while keeping the sidewalk clean, which we are required to do by law.
"We care deeply about members of our community and will work to determine a better solution for this issue moving forward," the company said in its statement.
The NYPD said it could not immediately comment on the incident.
This story has been updated with a statement from McDonald's.