Video: Police Called Onto the Court to Separate Russell Westbrook and Patrick Beverley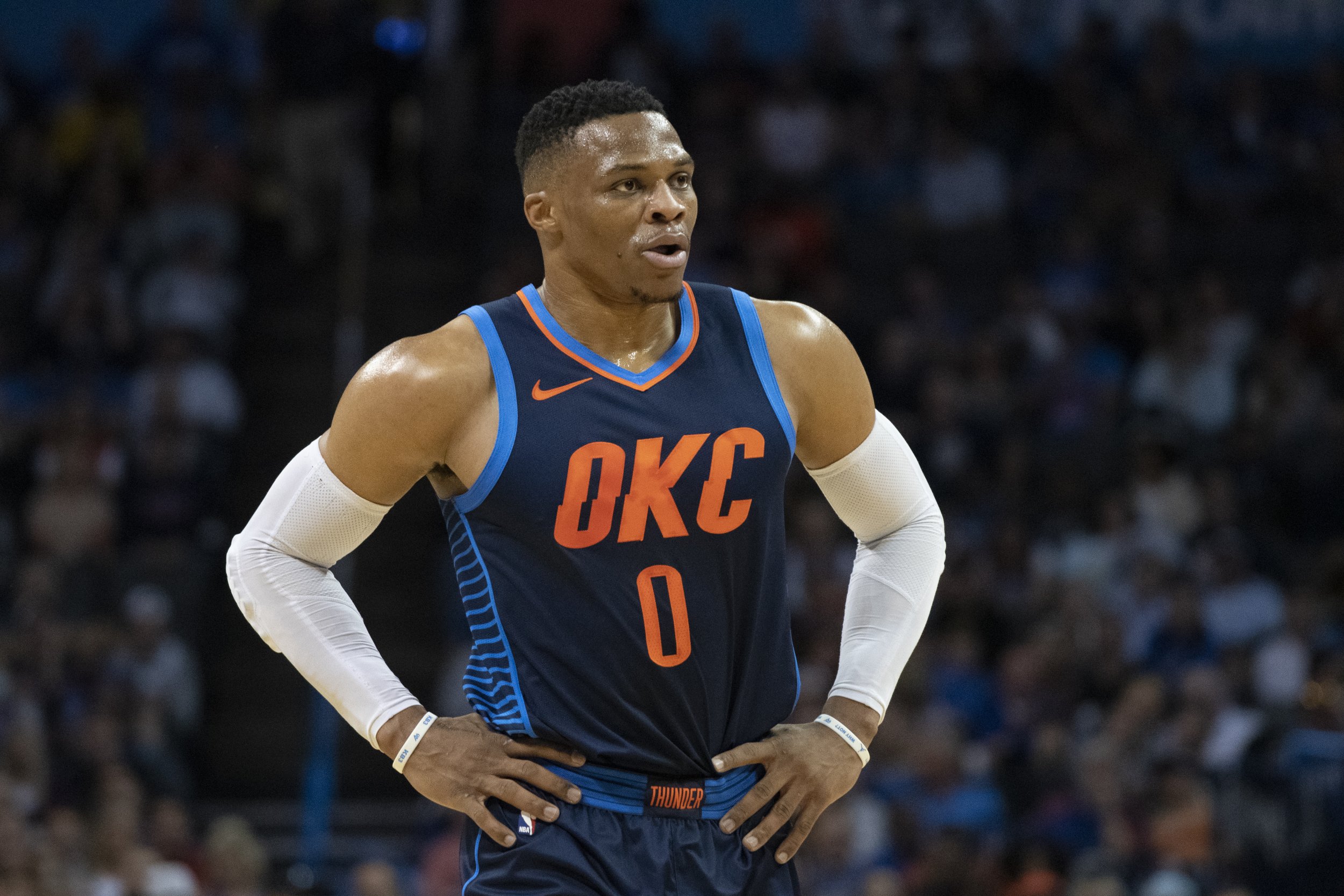 The bad blood between Russell Westbrook and Patrick Beverley resurfaced again on Tuesday night—and police had to be brought onto the court to separate the two.
With 6 minutes 20 seconds left in the fourth quarter in the Oklahoma City Thunder's 128-110 win over the Los Angeles Clippers, Beverley attempted to recover a loose ball that Westbrook had already collected, succeeding only in smashing into the latter's knees.
The MVP of the 2017 regular season has nursed knee issues throughout his career. He underwent arthroscopic surgery on his right knee in September to address an ongoing issue.
Westbrook looked incensed by the situation and exchanged words with Beverley by the Clippers bench— even after Thunder head coach Billy Donovan had called a timeout in an attempt to cool things down.
As the two grew more agitated, police arrived onto the court to separate them, while the referees handed out double technical fouls and a Beverley was also handed a flagrant foul for the play.
"I have no comment on it," Westbrook said while speaking to reporters after the game. "I just know that we won."
Beverley sought to minimize his role in the incident, insisting he was entitled to challenge for the loose ball.
"I went for a loose ball. What you think happened?" he said, as per Jovan Buha of The Athletic. "Somebody walked to our bench doing all that cappin' stuff; I don't know what that is. Walked to our bench doing this, and all that, and things went kind of haywire from there. Two competitors, no one's going to back down, no one did, two technicals, continue playing."
The Clippers point guard has been public enemy number one in Oklahoma for the last five years. In Game 2 of the 2013 first round playoffs Beverley, then playing for the Houston Rockets, crashed into the side of Westbrook's knee after the latter had been granted a sideline timeout.
As a result of the impact, the Thunder star tore his meniscus and underwent surgery a day later. Unsurprisingly, there's been animosity between the two ever since and they have tangled in different occasions in the intervening half-decade.
Clippers coach Doc Rivers admitted there was enmity between the players, but insisted there was little wrong with a hard-nosed approach.
"They have bad blood," he was quoted as saying by ESPN. "There's nothing wrong with that.
"As long as they keep it clean. I thought both of them did. All that talk, whatever. But there's nothing wrong with not liking someone in the league. It's allowed in this day and time. There's nothing wrong with it as long as guys keep it clean and play hard and play physical. It reminded me of 20 years ago. It's all good."
Westbrook finished with 32 points, four rebounds and nine assists as the Thunder picked up their second win of the season, thanks also to a brilliant performance from Paul George, who had 32 points, 12 rebounds and four assists.