Video of Police Officer Kneeling on Black Teenager in Canada Prompts Calls for Investigation
A video of a police officer kneeling on the neck of a Black teenager in Montreal, Canada has drawn outrage and calls for an investigation, as many say the image reminds them of George Floyd's killing.
The video was recorded during a June 10 incident, in which Montreal police reportedly responded to a fight by Georges-Vanier High School involving more than a dozen young people, CBC reported.
Police told Radio-Canada that two minors were charged for carrying weapons, and an officer can be seen in the video locating a stun gun in a backpack allegedly belonging to the young man being pinned to the ground.
In the video, which is about a minute and a half long, two police officers can be seen kneeling on the Black young person for about 15 seconds. One of the officers has a knee on the boy's neck but the subject does not appear to be resisting.
Both officers then get up, but one returns to kneeling on the teenager's neck and back for at least 37 seconds. The total length of time the minor was restrained is unclear, as he is being pinned down before and after the video begins and ends.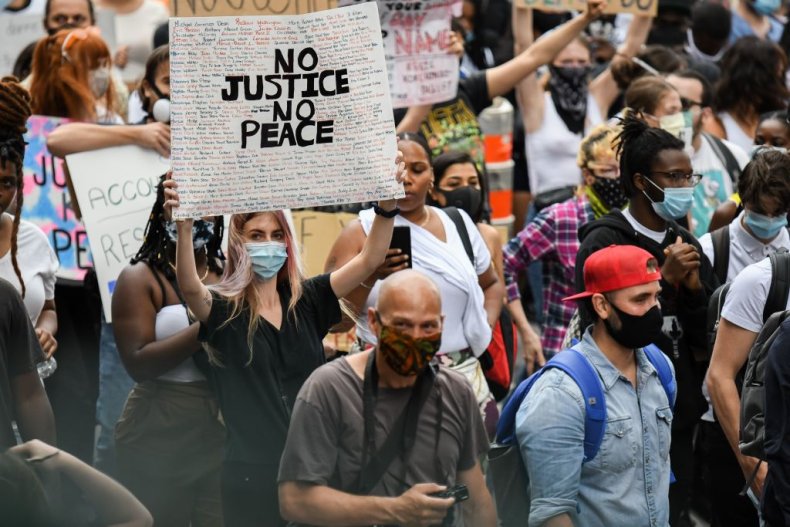 Frantz Benjamin, a Liberal member of the Quebec National Assembly, has called for an investigation. The politician said constituents have called him about the police's actions, with some telling him the video brought back the "collective trauma" of Floyd's murder in Minneapolis, Minnesota last year.
Floyd, an unarmed Black man, was murdered by former Minneapolis Police officer Derek Chauvin, who is white, on May 25, 2020. A viral video of the killing showed Chauvin kneeling on Floyd's neck for nine minutes even as he warned that he could not breathe and bystanders urged the officer to stop. Chauvin was subsequently fired from the police force, arrested and ultimately convicted of murder by a grand jury on April 20.
The murder, accompanied by several other high-profile incidents of Black Americans being killed by police, sparked massive Black Lives Matter and anti-racism demonstrations across the U.S. and around the world. The wave of protests was described as the largest Civil Rights movement in history, as demonstrators demanded an end to systemic racism in the justice system.
"It is a question of transparency and security to allow us to have confidence in the police," Benjamin said about the Montreal incident, according to Canada's CTV News. "I am pleased to see that several elected municipal officials, such as Abdelhaq Sari and Montreal Mayor Valérie Plante, share my request."
The mayor of Montreal has also expressed concern and is seeking answers.
"The images circulating are worrying. This investigation should shed light on the entire intervention," Plante said, CBC reported. "The images of the intervention once again reiterate the importance of implementing body cameras, which we are working on with our partners."
Newsweek reached out to the Montreal police for further comment but did not immediately receive a response.