Video of POTUS Hopeful's Wife Fainting at Campaign Event Viewed 1.9M Times
Rollan Roberts II, a Republican, announced his bid for presidency recently, but people on Twitter seemed to be more interested in his wife's response.
In a video that has been viewed 1.9 million times as of Friday morning, Roberts, a West Virginia businessman, is in the midst of announcing his campaign for presidency when his pregnant wife, Rebecca Lea Roberts, collapses. The clip, which is only 16 seconds long, shows Roberts speaking at a podium. Then, his wife stumbles around and collapses. Several seconds pass before Roberts leaves the podium and goes to her side.
Rebecca is pregnant with the couple's first child, Rolan III, due in July.
"Rollan Roberts II announces he is running for president this week, when his five-months pregnant wife passes out. She was fine, and Roberts was obviously highly concerned," former federal prosecutor Ron Filipkowski tweeted Thursday afternoon with a clip of the video. "Hell of a start to Rollan Roberts 2024!"
In response, many Twitter users expressed disdain at Roberts' hesitancy in aiding his wife when they saw the video.
"Why the hell did he just stand there at first?" one user asked.
"Wow! I counted a full 5-seconds before he made a move toward her. I hope she's okay," another person added.
"I thought for a moment he wasn't going to leave the podium," one user tweeted.
Even other lawmakers criticized Roberts' actions.
"He stood there and looked at her as if she was interrupting him," Florida state Representative Matt Willhite, a Democrat, tweeted.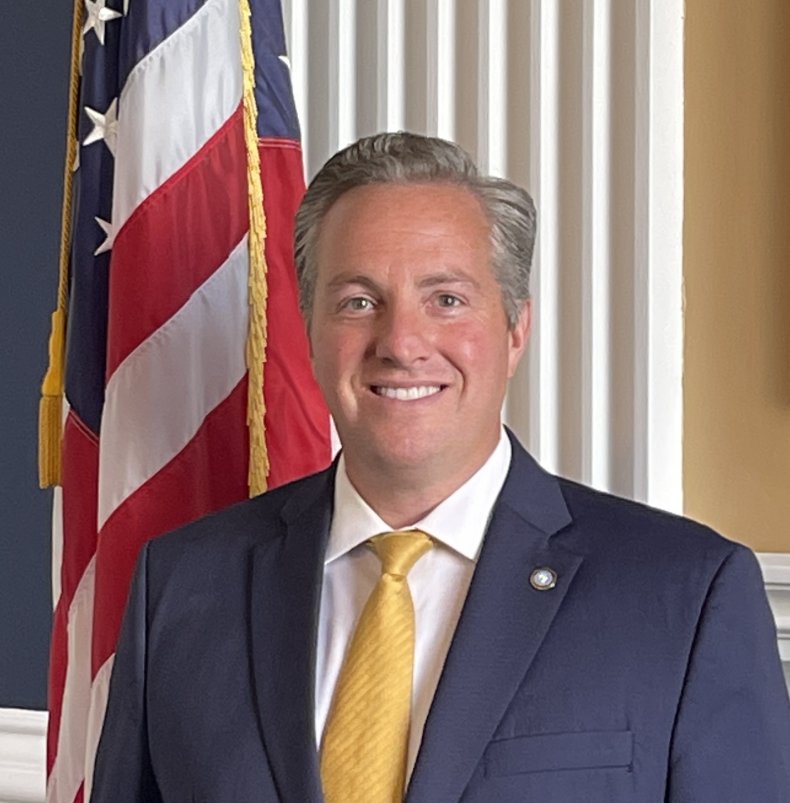 Others said Roberts already proved he was "definitely not presidential material," and that the hesitancy was a "bad sign from the start" for his campaign.
Roberts' campaign told Newsweek in a statement on Friday that Rebecca's medical team had examined her prior to the press conference and was monitoring the situation.
"Rollan Roberts' first priority is to his wife and family. Running for President was a family decision, and her health, pregnancy, and birth of their first child was a major consideration," the statement said.
Roberts' wife defended her husband's response, and said since there was movement happening throughout the announcement, he wasn't able to see what was happening when she fell.
"The unjust criticism and outrage at my husband's response time is infuriating," she told Newsweek in an emailed statement. "If people would watch the full video, they'll see him move towards me within seconds once he saw what was happening, and that he is the one that helped me up, stopped the press conference, and spent minutes with the medical team to see if we would even continue."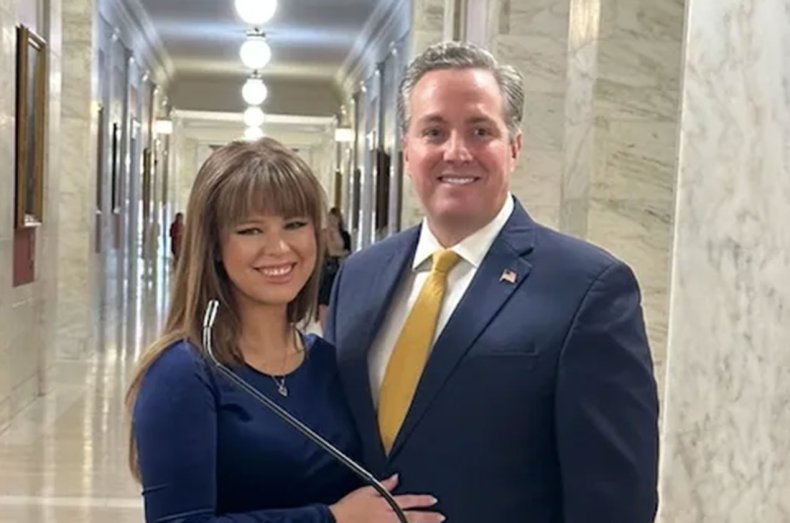 Rebecca assured Americans that her husband takes good care of her and puts her first.
The clip of Rebecca collapsing isn't included in the 13-minute announcement video on Roberts' presidential campaign website. The full video is edited with a cut around seven minutes in, showing Rebecca standing before the second part of the video shows her sitting, sipping from a can of what appears to be soda.
Roberts shared the video to his Twitter account on January 20, the day he announced his campaign.
"Today, I announced my candidacy for President of the United States. I'm running to offer a different vision and spirit for 22nd century America that elevates and unites the political discourse of our time," he tweeted with the edited video.
However, people were quick to point out the spliced video.
"Nice. Editing. Good god," one person tweeted.
"How many times you going to retweet this, my dude? And where is the part where your wife fainted?" another asked.
Ballotpedia's list of 2024 presidential candidates identifies only one noteworthy Republican candidate—former President Donald Trump, who launched his bid for the presidency this past November. More than 500 other people have filed to run for president, and the site lists Roberts among them.
Meanwhile, no notifiable Democrat candidates have officially announced a presidential campaign yet.