Video of Princess Charlotte Holding on to Kate 'For Dear Life' Goes Viral
Princess Charlotte can be seen clinging onto Kate Middleton after a mishap during Queen Elizabeth II's birthday parade in a resurfaced video from when she was three.
The young royal, now seven, appeared to slip off a step as she watched the Trooping the Colour military ceremony from the Buckingham Palace balcony on June 9, 2018.
The full footage showed that, then a toddler, she was seen craning over the balcony alongside cousin Savannah Phillips ahead of what appears to be a Royal Air Force (RAF) fly past.
However, Charlotte slipped and was kept standing only by gripping onto the balcony while Kate bends down to steady her.
The princess then turns into her mother for a hug before Kate picks her up and cuddles her.
Savannah, daughter of Peter Phillips, Princess Anne's son, can also be seen bending down to check she is okay.
A clip from of the moment between mother and daughter got more than 179,000 likes on Tiktok and was posted with the message: "Poor princess charlotte 🥺 #princesscharlotte #princess #charlotte #crying #holdingonfordearlife #fyp #viral."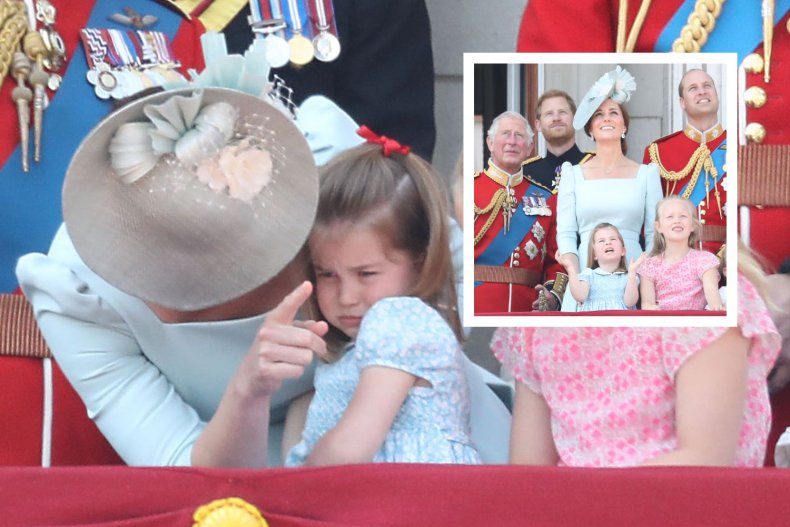 The footage itself carried a separate caption, a lyric from Sia's hit song Chandelier: "And I'm holding on for dear life."
The passing moment did not appear to ruin Charlotte's day, however, and she was soon back on her feet on the palace balcony to watch the rest of the fly past.
She was also not the only one to take a tumble that day after former Chief of the Defence Staff Field Marshall Lord Guthrie fell from his horse.
The 79-year-old former head of the British armed forces was treated at a local hospital, The Guardian reported at the time.
More recently, seven-year-old Charlotte had a star turn on social media after helping her father, Prince William, record a good luck message to England's women's football team, the Lionesses.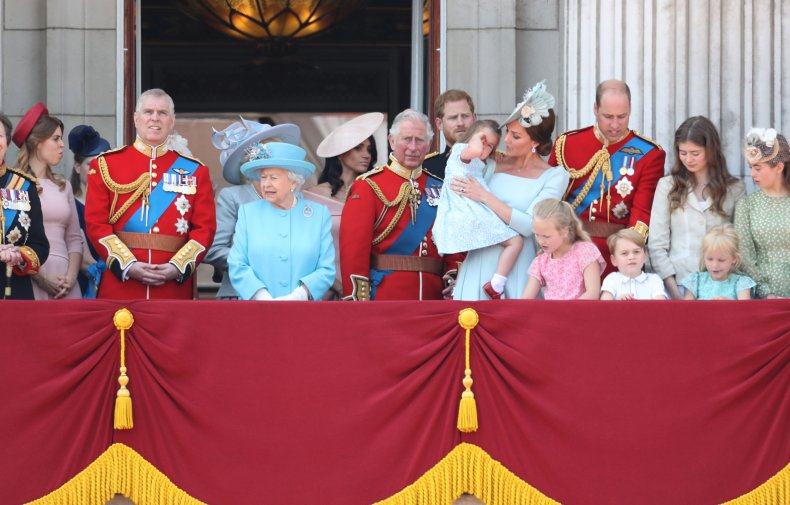 In the video, William said: "We both want to wish the Lionesses the best of luck for tonight. You've done amazingly well in the competition and we're rooting for you all the way."
Charlotte added: "Good luck, I hope you win, bye."
England then beat Germany in the final of the UEFA Women's Euro 2022 final to bring home the country's first international soccer trophy since the men's team won the World Cup in 1966—a date etched on the national psyche.
Charlotte was then seen again watching the swimming at the Commonwealth Games, where a variety of amusing facial expressions warmed hearts on social media.
The princess also had a more recent stint on the Buckingham Palace balcony during the Platinum Jubilee when it was Prince Louis who stole the headlines with some amusing pictures of him grappling with the noise of the RAF jets overhead.
For more royal news and commentary check out Newsweek's The Royal Report podcast: