Video of Protester Outraged at Biden Fundraising Off Abortion Gets 5M Views
A video of a protester saying that abortion rights should not be a "fundraising point" for Democratic politicians after the overturning of Roe v. Wade has received more than 5 million views on Twitter.
The video was shared Saturday on the social media platform by Fernand Amandi, an MSNBC analyst, professor and president of the Bendixen & Amandi International consulting firm. While being interviewed at a demonstration by an MSNBC correspondent, a protester identified as Zoe Warren with the group Rise Up 4 Abortion Rights spoke about receiving a text message from President Joe Biden's campaign that urged her to donate $15 to the Democratic Party in the wake of the overturning of Roe v. Wade.
"I thought that was absolutely outrageous because my rights should not be a fundraising point for them, or a campaigning point," Warren said. "They have had multiple opportunities to codify Roe into law over the past 20, 30, 40, 50 years, and they haven't done it. If they're going to keep campaigning on this point, they should actually do something about it."
While Republicans have celebrated the rollback on federal abortion rights, which the Supreme Court officially announced on Friday, pro-abortion rights activists have condemned the move and gathered in protests across the U.S.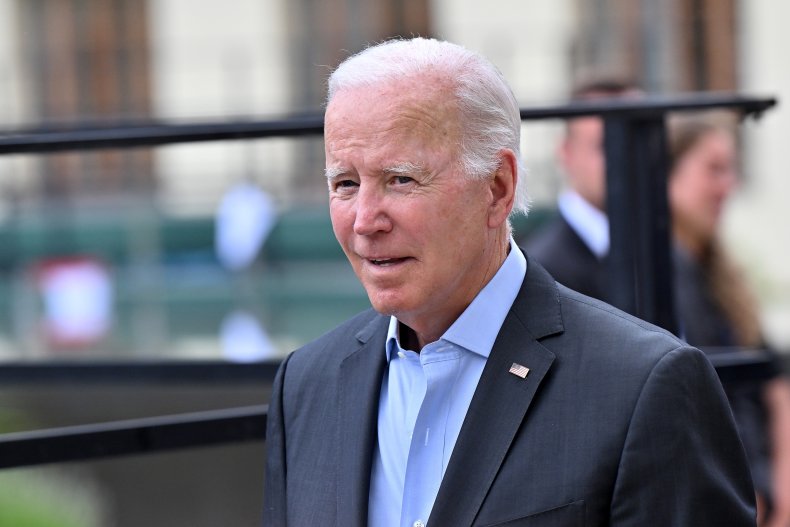 Democrats like Biden and House Speaker Nancy Pelosi have joined abortion rights advocates in sharply criticizing the court's decision, but the two politicians are also facing backlash for citing the overturning of Roe in fundraising pushes since the controversial opinion was issued.
When asked by MSNBC about what the Roe decision means for midterms, Warren said that in upcoming primary elections, "we need to get as many people to the polls as possible to vote for more progressive Democrats."
"We need to get the old, white Democrats out of office and put in new younger people who actually defend the rights of women and people all over this country," Warren said. "And then when it comes to midterms, we need to make sure that we have those same people who voted for the progressive people in the primaries coming back to the midterms and voting again and making sure that these more progressive Democrats get into office and can actually make the change that we need."
Samantha Goldman of Rise Up 4 Abortion Rights said in a statement shared with Newsweek that the organization is "so proud that Zoe's message that we demand the federal government restore legal abortion on demand nationwide has been seen and heard by so many."
"The highest court in the land has essentially stripped women and girls of our legal status as full human beings and declared we are nothing more than incubators," Goldman wrote.
"As Jules, another student organizer made clear in the segment; right now the lives of women and girls, of LGBTQ people, are in our hands," the statement added, referencing Julianne D'Eredita, who is also with Rise Up 4 Abortion Rights and appeared alongside Warren in the MSNBC interview.
"Zoe is right that we cannot listen to those who claim that this atrocity can be solved by waiting to vote in November's elections. Roe v. Wade itself was the result of mass struggle in the streets. And across Latin America, women are decriminalizing abortion by waging fierce struggle in the streets! We must Rise Up 4 Abortion Rights NOW to make clear to those in power that we will sooner bring the gears of society to a grinding halt through mass nonviolent resistance than to accept the horror of forced motherhood."
Warren is not the only person who has chided the Democratic fundraising attempts.
In a tweet Friday that included screenshots of a fundraising email from the Democratic National Convention that asked for donations following the Supreme Court's ruling, writer and performer Matt Gehring wrote that "if they had any decency, they'd direct folks to donate to abortion funds."
Comedy Central's The Daily Show tweeted Friday: "EVERYONE: [apoplectically angry]" and adding "DEMOCRATIC POLITICIANS: We hear you. Please donate $3 so we can fight back against the Supreme Court with a Pro-Choice Karaoke Night in 12 weeks."
Newsweek reached out to the White House for comment.