Video: Protesters Chant 'Impeach Trump' Outside White House As Others Gather Outside Trump Golf Club With 'Traitor' Signs
Protesters gathered outside the White House and loudly chanted "impeach Trump" as they held up signs condemning Donald Trump on Sunday, while other demonstrators greeted the president's motorcade as he arrived at the Trump National Golf Club in Sterling, Virginia.
Julio Rosas, a senior writer for conservative news website Townhall.com, on Sunday afternoon shared images and videos of the anti-Trump protest as it unfolded outside the White House. "Last Sunday it was the impeach Kavanaugh protest. Today it's the Women's March's impeach Trump protest," he tweeted.
The protest is part of a nationwide movement organized by The Women's March and By The People, which aims to encourage elected congressional lawmakers to impeach Trump over his involvement in the Ukraine scandal. "Trump and his administration have been wielding the executive branch to undermine our democracy, divide Americans against each other, and enrich and empower themselves," a website for the protests reads.
In another video, shared by Twitter user @debramayberry, a large crowd of protesters can be seen holding up signs and banging drums as they chanted "impeach Trump" to the beat.
"Repulsive. No dictators here," one of the signs reads. Another said: "Congress do your jobs. Impeach now!"
Meanwhile, a smaller group of protesters gathered outside the Trump National Golf Club in Sterling, Virginia to greet the president's motorcade as it arrived at the location. United Press International (UPI), an international news agency, shared a photo of the event taken by Yuri Gripas which showed the protesters holding up signs that read "traitor" and "Trump's despicable" as the president's motorcade passed by. The New Yorker also confirmed the incident on Sunday.
The protests come amid an ongoing impeachment inquiry into Trump, announced by House Speaker Nancy Pelosi late last month. At the heart of the proceedings is a July phone call made between Trump and Ukrainian President Volodymyr Zelensky, during which the U.S. president asked his foreign counterpart to investigate the family of his 2020 domestic rival former Vice President Joe Biden.
A partial transcription of the conversation, released by the White House one day after Pelosi announced the formal impeachment inquiry, proved that Trump had urged Zelensky to probe Biden's son, Hunter Biden, and revealed that he had even offered his own administration's Attorney General to assist in the investigation.
As congressional Democrats continued to gather information for the ongoing impeachment inquiry, Trump abruptly shifted policy last week and withdrew some U.S. troops out of areas in northern Syria. The U.S. forces were deployed to support Kurdish troops in fighting the Islamic State (ISIS.) Shortly after Trump announced the decision, Turkey began its offensive against Kurdish forces in the area.
Trump's decision has since evolved into another major controversy for the president's administration, with bipartisan lawmakers in Congress—including some of Trump's usually-staunch supporters—sharply criticizing the move.
This story has been updated to include information about the White House protest's oragnizers.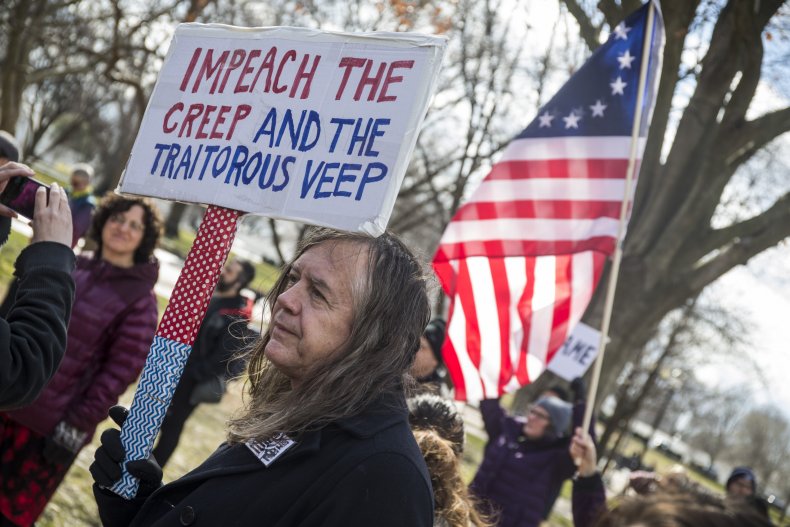 Video: Protesters Chant 'Impeach Trump' Outside White House As Others Gather Outside Trump Golf Club With 'Traitor' Signs | U.S.