Video: Rachel Maddow Runs Montage of Republicans Opposing Trump Declaration, Says They Should 'Put Their Money Where Their Mouth Is'
Rachel Maddow has called on Republican senators who have challenged President Donald Trump's threats to declare an emergency, to double down on their opposition.
With no shortage of Democrats slamming Trump's plan to use the emergency declaration to bypass Congressional approval for wall funding, the MSNBC host looked to dissenting GOP senators to stop the president.
On Thursday's The Rachel Maddow Show, she started a segment with a montage of Republicans who have gone on the record criticizing Trump's plan.
It started with a clip from January 27 in which Senator Marco Rubio said he thought the declaration was a "terrible idea." It then segued into clips of the Wisconsin Senator Ron Johnson and Texas Senator John Cornyn slating the wisdom of the move.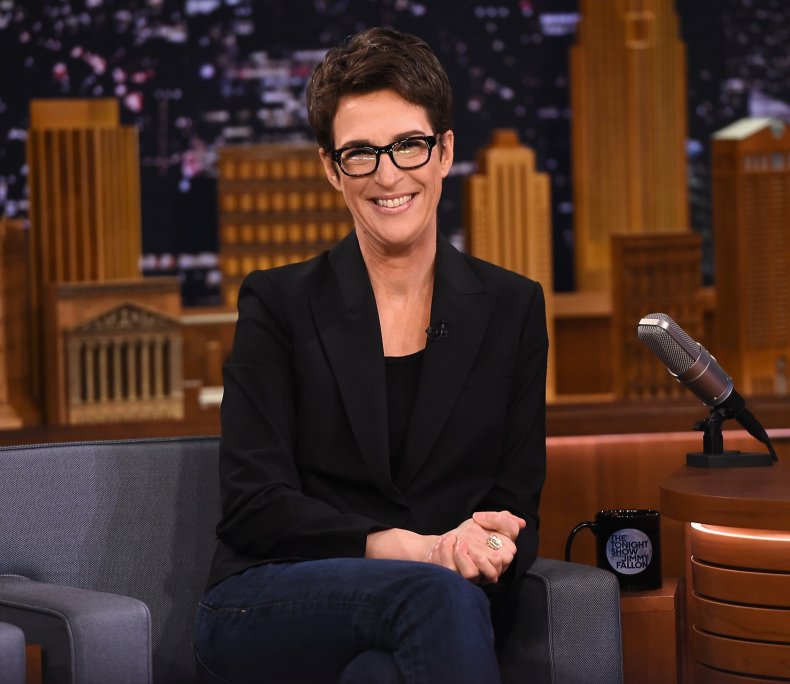 The montage ended with Senator Thom Tillis telling Fox News on January 15 he would "hate the idea" of an emergency because he would "worry about that abuse of that by future presidents." This was followed by Senator for Maine Susan Collins saying on February 5 she believed it would of "dubious constitutionality."
Afterward, Maddow said: "Those are not wackadoo liberals and Democrats. Those are all Republican U.S. Senators. So what are those Republican senators going to say about that now?" she asked (via Mediaite).
She said if the dissenting senators stuck to their guns, they could stop Trump, explaining that under the National Emergencies Act, Congress can contest an emergency declaration. If a majority opposes it, it would go to the upper house.
"Once that vote is triggered in the Senate, honestly it would only take a couple of Republicans voting with the Democratic senators to in fact block President Trump from declaring this emergency. If they put their money where their mouth is, they could stop this president from doing it," Maddow concluded.
However Trump could still veto such a resolution, which could only be overturned by a super majority in both houses of Congress, the BBC reported.
In a joint statement, Speaker of the House Nancy Pelosi and Senate Democratic leader Chuck Schumer said that declaring a national emergency "would be a lawless act, a gross abuse of the power of the presidency and a desperate attempt to distract from the fact that President Trump broke his core promise to have Mexico pay for his wall."
The graphic below, provided by Statista, illustrates the number of active U.S. national emergencies.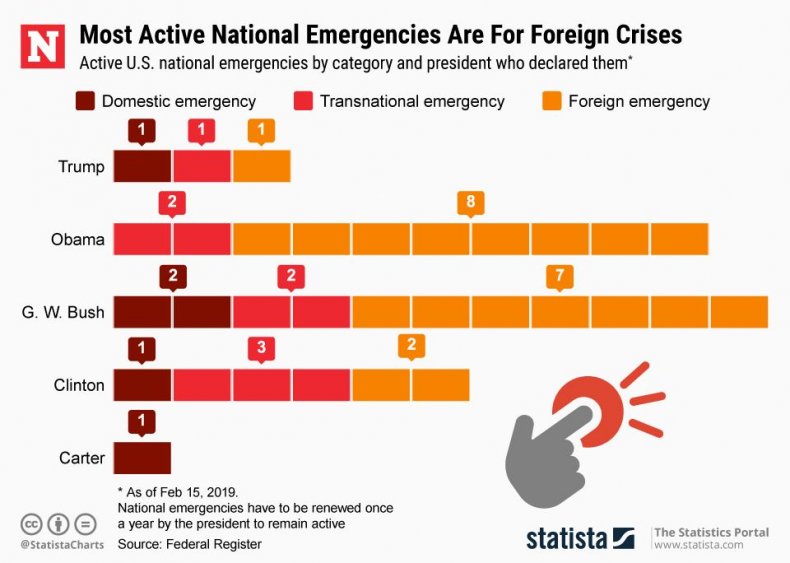 This article was updated to include an infographic.