Video Released of Tulsa Police Handcuffing Black Teens for Jaywalking as Trump Prepares to Host First Rally There
Police in Tulsa, Oklahoma have released body camera videos of officers handcuffing and arresting two black teenagers for allegedly jaywalking, after some on social media raised concerns about their detention.
Meanwhile, President Donald Trump announced on Wednesday that he plans to hold his first in-person rally since the start of the novel coronavirus pandemic in Tulsa on June 19. "We're going to start our rallies back up now. We've had a tremendous run at rallies," Trump said, making the announcement.
The videos of the arrests, which were released by the police on Tuesday, are both about 21-minutes in length. They show two white officers confronting and detaining the teens for jaywalking in what appears to be an empty street. While one of the teenagers appears to be more cooperative, the other was wrestled to the ground and handcuffed.
At one point, a bystander can be seen and heard questioning why the police are handling the teenagers so roughly. As that man, who is black, steps into the street, the officers then threaten to arrest him as well before he quickly returns to the sidewalk.
"You don't have to do all that sh--!" the unidentified bystander can be heard saying. "I'm watching you assault that little boy right there!"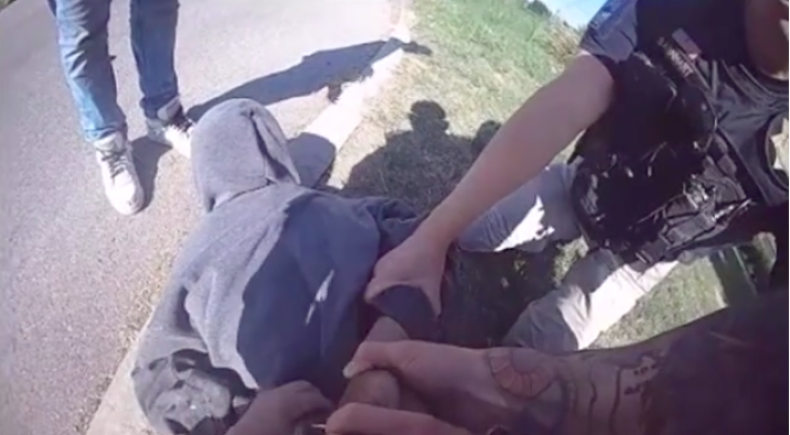 In a public statement, the police said they have launched an internal investigation and had released the body camera footage to be transparent with the public.
"Over the weekend we received a few messages through our social media page about an arrest that was made involving 2 juveniles this last week. We were able to find the arrest illustrated in the citizen's video and locate the officer's videos from their body cameras," the police said in a news release.
"[Tuesday] in the continued effort to be transparent with our community, we are releasing 2 body camera videos from the arrest of a juvenile and the contact with another in the area of 1300 N Osage Drive on June 4, 2020 at approximately 5:00 p.m."
When reached for further comment, a police spokesperson emailed Newsweek the same statement.
The incident comes as mass protests have been held nationwide, and around the world, of what many Americans see as systemic racism in policing and the U.S. justice system. These demonstrations were sparked by the death of George Floyd, a black man, in police custody in Minneapolis, Minnesota on May 25. Demonstrators have called for significant police reforms and even defunding the police.
Trump's announcement to host his first rally in Tulsa on June 19 was quickly criticized, as many saw it as insensitive and disrespectful to Black Americans. June 19, known as Juneteenth and Freedom Day, is an unofficial American holiday that commemorates the reading of the Emancipation Proclamation to freed slaves in Texas on that day in 1865. Although the declaration was signed on January 1, 1863, Texas was the last Confederate state to announce the proclamation.
Tulsa is also significant in Black American history, as it was the location of what was known as "Black Wall Street." The city became an economic powerhouse for black Americans in the early 20th century, drawing the ire of Tulsa's white residents. A group of white residents then carried out a massacre from May 31 to June 1, 1921, killing dozens of people and hospitalizing hundreds. Using a private aircraft, the white Tulsa residents leveled 35 square blocks to destroy black businesses and homes.
"So Trump is holding his next rally on Juneteenth ... in Tulsa, the site of the 1921 race massacre," Phillip Lewis, an editor at Huffington Post, tweeted following the president's announcement.
MSNBC host Joy Reid also criticized the decision.
"Hard to view this as anything but deliberate. Trump and his alt-right crew salt the wounds of our ugly racial history to activate the ID of his white conservative followers and to try to send a shiver of fear down black folks' spines. But this theater of horrors won't work. Ever," Reid wrote on Twitter.
"This cruelty hurts, but it won't work," she said.
"Donald Trump's first post-coronavirus, post-Uprising really will be on Juneteenth... In Tulsa. I'm sure it's a coincidence," Michael Harriot, a senior writer at The Root, tweeted.
Trump and his administration have denied that systemic racism exists in policing and the justice system. They have also pushed back against police reforms that many have called for.
This article has been updated to note that a police spokesperson emailed Newsweek a statement about the arrest.