Video Reportedly Shows Michigan Rally-Goers 'Streaming Out' as Trump Speaks
Reports have emerged alleging that attendees were consistently leaving the venue over the course of Donald Trump's speech at a rally in Michigan on Saturday night.
The former president spoke in Warren, Michigan, to support several candidates that he has endorsed in the upcoming midterm elections. Most prominent among these candidates is Tudor Dixon, the Republican nominee challenging incumbent Democrat Governor Gretchen Whitmer in the gubernatorial race.
Despite the occasion, several tweets from Detroit Free Press reporter Paul Egan seem to suggest that the event did not draw a capacity crowd, and that Trump's speech at the rally may have driven some attendees away. In his initial tweet, Egan included a photo of an area at the back of the venue, despite it being only 10 minutes until Trump was due to speak.
"This was the rear of the Macomb College Sports & Expo Center 10 mins before former President Trump began speaking," Egan tweeted. "There appeared to still be ample standing room. Fire marshal said capacity was 6,600."
Later in the night, Egan said that, at around 15 minutes into Trump's speech, attendees appeared to be steadily leaving. The former president reportedly spoke briefly about his endorsed candidates, including attorney general candidate Matthew DePerno and secretary of state candidate Kristina Karamo, before moving on to "familiar grievances." His speech ultimately ended up lasting an hour.
"There's also been a steady stream of attendees heading for the exits since about the 15-minute mark of this now hour-long and ongoing speech," Egan tweeted. "Former President Trump said a few words about the [Michigan GOP] candidates and launched into familiar grievances. Trump did eventually return to the MI candidates, inviting #MIGOP Dixon, DePerno, and Karamo back up to say a few words. Trump also again bashed Gov Whitmer over policing, environmental issues, and more."
A few hours later, Egan added another tweet to the thread, this time including a video he shot of attendees allegedly "streaming out" of the Macomb County venue, not even halfway through Trump's speech.
"I didn't have the bandwidth to tweet it from the facility, but here is video of attendees streaming out of complex in Warren MI about 20 mins into former President Trump's speech," Egan wrote.
Newsweek reached out to Trump's office for comment.
During the speech, Trump once again attacked the FBI for the recent search warrant its agents executed at his Mar-a-Lago property in Florida. The search turned up numerous folders of top-secret documents that the former president had claimed to have already returned to the National Archives. He also attacked the House select committee investigating last year's Capitol riot, calling the committee members "sick, sick, people."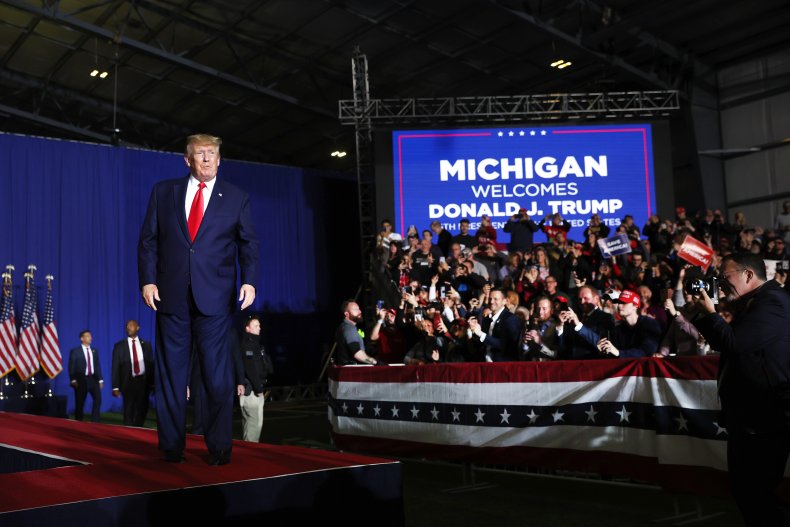 The former president also notably spoke out in support of Ginni Thomas, the wife of Supreme Court Justice Clarence Thomas, who has been accused of attempting to help overturn the results of the 2020 election.
"As we talk about and think of the rigged and stolen election of 2020—the presidential election, rigged and stolen—I would like to thank a great woman named Ginni Thomas. Do you know Ginni Thomas? Great woman," he said.
Trump added: "She says that she still believes the 2020 election was stolen...She didn't say, 'Uh well, I'd like not to get involved, of course it was a wonderful election'...She didn't wilt under pressure like so many others that are weak people and stupid people, because once they wilt, they end up being a witness for a long time."