Video of 'Republican Jesus' Viewed Over 4.4M Times After Migrant Flights
A satirical video about "Republican Jesus," trolling conservative ideas held by some GOP members, resurfaced on Friday on Twitter as it gained 5 million views as of Saturday afternoon.
The "GOP Jesus" is a 3-minute video, produced and released in 2018 by YouTube comedy group Friend Dog Studios, that hypothetically-speaking shows what Jesus would say if he was a Republican.
At the time, the video trolled supporters of then-President Donald Trump, and pointed out some of the ideas and values held by Republicans, HuffPost reported.
The GOP Jesus character, which is played by actor Ben Auxier, is seen at the beginning of the video walking with a group of people while carrying a young girl.
The Republican Jesus then looks at the child and says as he looks on to the group of people: "I say unto you whoever welcomes one of these little ones in my name might be letting in a murderer or a drug. Let's get her to a detention center."
"I was hungry and you gave me something to eat. I was thirsty, and you gave me something to drink," the fake Jesus character said, reciting a verse from the Bible only to follow it with the sarcastic remark: "And behold, now I'm all lazy and entitled. You shouldn't have done that."
The video resurfaced after Republican Florida Governor Ron DeSantis and fellow GOP Texas Governor Greg Abbott sent dozens of migrants this week to Democratic-led states and cities including Washington, D.C., New York City, and Chicago to make a point that the Biden administration is mishandling the U.S.-Mexico border when addressing illegal immigration. Meanwhile, Arizona Governor Doug Ducey has sent 43 buses with migrants to Washington D.C. since May.
Abbott said on Thursday that his state bused migrants to Vice President Kamala Harris' house at the Naval Observatory in Washington D.C. The buses included between 75 and 100 migrants, who originally came from Uruguay, Venezuela, Colombia, and Mexico.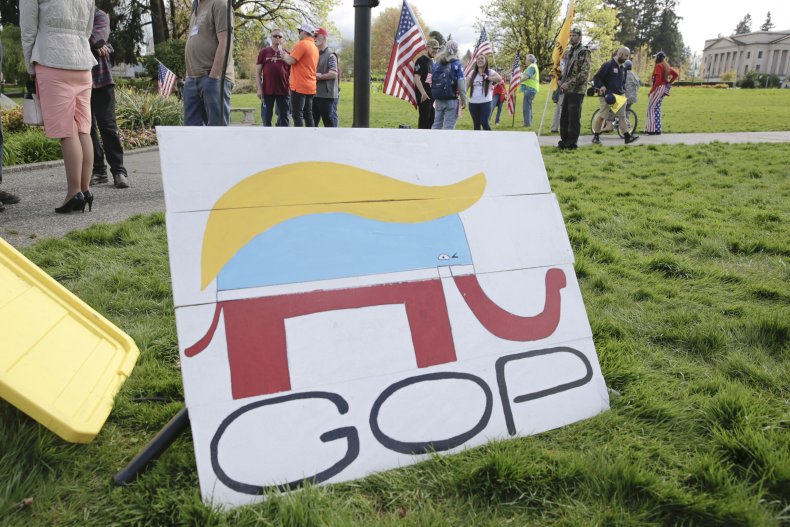 "This morning, two Texas buses of migrants arrived at the Naval Observatory in DC. VP Harris claims our border is 'secure' & denies the crisis. We're sending migrants to her backyard to call on the Biden Administration to do its job & secure the border," Abbott tweeted.
The Texas governor has been busing dozens of migrants out of his state and relocating them throughout the country since April, and has spent more than $12 million on transportation to D.C. and New York City, according to a Texas Division of Emergency Management report that was obtained by CNN.
Similarly, DeSantis helped fly migrants on Wednesday from Florida to Martha's Vineyard, Massachusetts, on two flights that carried about 50 men, women, and children who were mostly from Venezuela. The state spent $12 million on transporting them.
DeSantis' spokesperson defended the governor's decision on Friday and told Newsweek in a statement that this is part of Florida's "relocation program," which is meant to ban human smugglers and traffickers from arriving in the state. It also prevents "illegal aliens at the southern border from entering Florida."
"Florida continues to litigate against Biden's catch and release policy and has initiated a statewide grand jury to examine the harmful impacts of illegal immigration across the state," the statement read.
Newsweek reached out to the Republican National Committee (RNC) for comment.