Video Resurfaces of Donald Trump Saying Impeachment Would Be 'An Absolute Embarrassment' to Obama: 'He Would Be a Mess'
As President Donald Trump faces an impeachment vote in the House, which is widely expected to pass on Wednesday, a clip of him saying impeachment would be an "absolute embarrassment" and a "horror show" for President Barack Obama has resurfaced.
In 2014, Trump called into Fox News morning show Fox & Friends to criticize Obama and talk about the possibility of the former president's impeachment. At the time, Trump was a reality-TV star and businessman, who had previously launched an unsuccessful presidential bid, as a Reform Party candidate, in 2000.
"Do you think Obama seriously wants to be impeached and go through what Bill Clinton did? He would be a mess. He would be thinking about nothing but," Trump said during the November 24 Fox News interview. "It would be a horror show for him. It would be an absolute embarrassment. It would go down on his record permanently."
Trump argued that Democrats were claiming that Obama wanted to be impeached because it would play well for the president politically. He also said Republicans were afraid it would benefit Obama.
"But they're [Democrats are] saying, 'Oh, he'd love to be impeached, that would be so good.' And the Republicans are all saying, 'Oh, we'd never impeach him, never impeach him because he'd like that,'" he said.
Newsweek reached out via email to the White House and the Trump 2020 presidential campaign for comment but did not hear back before publication.
In a letter addressed to House Speaker Nancy Pelosi ahead of Wednesday's impeachment vote, Trump dismissed the inquiry and said he'd done nothing wrong. "It is a terrible thing you are doing, but you will have to live with it, not I!" he wrote.
The vote to impeach is expected to pass, although largely along party lines. Republicans have defended the president, arguing that the entire investigation was a "sham" and "unfair." The notable exception is conservative independent Justin Amash, who was elected as a Republican but formally left his party in July.
Amash has fully backed the impeachment inquiry and plans to vote in favor of the two articles. Several other Republicans in Congress have voiced concerns about the president's actions but have said they did not rise to the level of impeachment.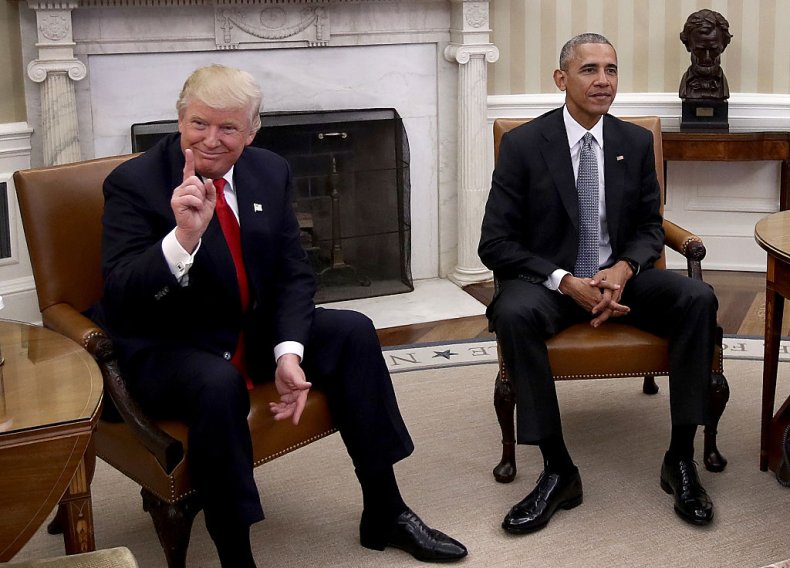 Throughout Obama's tenure in the White House, Trump repeatedly attacked the president and his policies. He became one of the most prominent promoters of the debunked "birther" conspiracy theory, which claimed that Obama was not born in the and therefore not a citizen. Since taking office, Trump has continued to compare himself to Obama, often attacking his predecessor and pushing through policies to undo the former president's actions.
Although some Republicans discussed impeaching Obama for a variety of reasons, and many investigations were launched by GOP lawmakers into the president and his administration, an official impeachment inquiry never took place. Trump would become only the third president in U.S. history to be impeached, with the first being Andrew Johnson in 1868 and the second Bill Clinton in 1998. But no president has ever been removed from office after an impeachment vote, and Trump is not expected to be removed by the Republican-controlled Senate.