Video Reveals Leevon Smith's 7-Word Reaction After Being Shot 3 Times
Newly released video footage reveals Leevon Smith's reaction to being shot during an incident with an off-duty police officer in Chicago.
Chicago's Civilian Office of Police Accountability (COPA) released multiple videos and audio clips Thursday showing the encounter between Smith and an off-duty female police officer that occurred on January 18.
The officer appears to have broken up a fight that broke out between four men in the 1300 block of West 90th Street. In the video, the men were heard arguing as the officer tells them to "calm down." Three of the men then walk away but Smith remains with the officer.
After a brief chat, the officer walks away and Smith appears to try to grab her.
According to a press release from COPA, Smith "grabbed her from behind and reached for her weapon, which resulted in a physical struggle."
COPA said as they both fell to the ground, the off-duty officer's weapon discharged, "striking the subject, who later succumbed to his injuries."
Before shots were fired, the officer is heard telling Smith, "I will kill you." After Smith was shot, she said, "Didn't I tell you I would kill you?"
In response to being shot, Smith said he was sorry. After a second shot was fired, Smith said, "Oh s***, you got me."
When another shot was fired, Smith said, "I don't want to die, please baby."
She continued to address Smith, saying "I told your dumba** I'd kill you."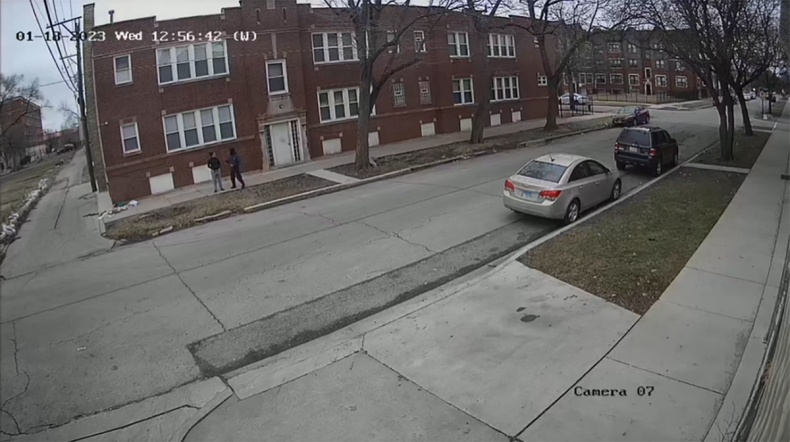 The officer shouted for someone around the incident to call for help.
"Call the police, I just shot somebody!" she said.
The officer told people watching from the opposite sidewalk that Smith tried to rob her and tried to steal her gun after she helped him by breaking up the fight only moments ago.
"I don't give a f*** about him, he just tried to rob me," the officer said.
When the ambulance arrived, a first responder asked the officer where she hit Smith. The officer replied, "I don't know."
An arrest report said that the officer shot Smith in the left hand and abdomen.
Smith was taken into custody and brought to Christ Medical Center, where he was pronounced dead on January 20.
The officer was placed on routine administrative duties for 30 days and has not faced charges. The Chicago Sun-Times reported that the officer joined the force last June.
According to the arrest report, the officer said the shooting happened after she observed "a verbal argument" and that Smith "grabbed her from behind" and reached for her gun "in an attempt to disarm her."
A tactical response report said that Smith posed an "imminent threat of battery" without a weapon and physically attacked the officer in an attempt to obtain her weapon. It also said she was ambushed with "no warning" and fired three shots.
Smith's estate filed a lawsuit against the city and the officer on February 3 for $10 million, alleging that the unnamed officer used "excessive and violent physical force" and "knew or should have known that such force was not necessary in light of the circumstances," according to the complaint.
The lawsuit says Smith's "estate was diminished by virtue of the medical and funeral expenses that were incurred," adding that his family "suffered injuries as a result of his death, including, but not limited to, the loss of companionship and society, grief, sorrow and mental anguish."
Newsweek reached out for comment from COPA.