LAPD Releases Crucial Body Camera Footage Showing Police Shooting of a Skid Row Homeless Man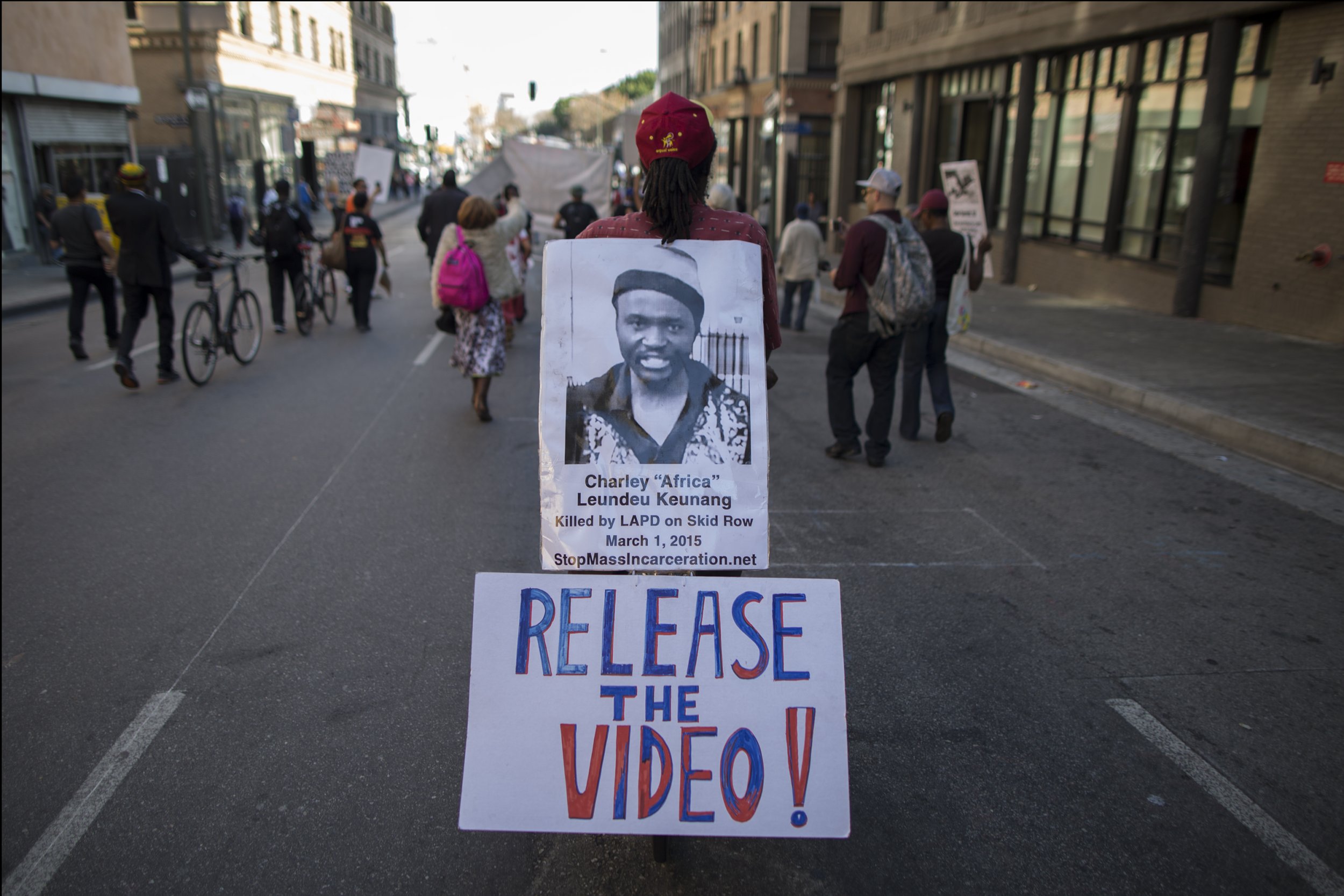 New details on the final moments before the police shooting death of an unarmed Cameroonian national came to light this week as body camera footage was released.
Charly "Africa" Keunang, 43, was killed in 2015 after police approached him in on Skid Row, a strip of downtown Los Angeles where homeless people reside.
His death led to protests and raised questions about police training and their treatment of black men.
Millions saw the bystander video of the shooting, but The Los Angeles Times was able to obtain body camera footage three years after the event and two years after prosecutors said the officers were justified in the shooting.
The new footage from the body cameras of Officer Francisco Martinez and Sergeant Chand Syed offers a deeper insight into how Keunang, who suffered from a mental illness, was killed, after one officer yells, "He has my gun."
The video starts with Keunang trying to have a conversation and "express" himself to police in front of his tent. Police first arrived on the scene after receiving a call about an attempted robbery.
The cops approach Keunang, who tells them, "Listen, listen."
"No, no," Martinez responds. "It doesn't work like that."
Keunang is then repeatedly warned that he will be tased. At one point, Keunang heads back inside his tent, telling police to leave him alone.
Officers then try to open the tent while ordering Keunang to get out.
"You've gotta step outside, man," Syed says, according to the Times. "We've gotta figure out what's going on. Come on, brother. Just relax."
The situation quickly escalates, and an officer fires the Taser. Keunang moves toward police, at which point he is brought to the ground, and a scuffle ensues.
"Stop resisting!" an officer yells.
Keunang is then punched in the face. Soon Joshua Volasgis, a police officer on the scene, shouts, "He's got my gun!" referring to Keunang.
In a matter of seconds, Keunang is shot. He lets out a scream.
Officers search for the gun but quickly discover that Volasgis still has his gun in his holster.
"When you watch that video in rea time, it is difficult to see the suspect's hand on the officer's gun," LAPD Chief Charlie Beck told the Times. "But when you slow it down, frame by frame, it is quite easy to see."
Keunang's family said otherwise, arguing that the video is too unclear to decipher if Keunang was attempting to grab the officer's gun.
"This was a cop-created killing," Joshua Piovia-Scott, an attorney representing the family, told the Times. "This did not need to happen. And the reason it did happen is because of the conduct of these officers."
Keunang arrived in the U.S. in the 1990s posing as a Frenchman named Charley Saturmin Robinet in order to become an actor, according to The Washington Post. In 2000, he was convicted in California for robbing a bank and sentenced to 15 years in prison.
He was released in 2013, but officials could not deport him because Cameroon reportedly did not return requests for deportation. After leaving jail, Keunang lived in a halfway house and eventually landed on Skid Row.